Bayview youth green the streets through City Garden Project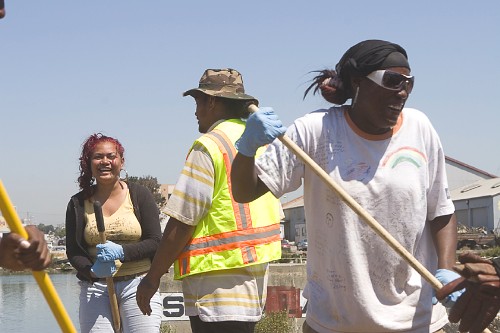 Photo(s) by Sean Posey
August 10, 2006
Bayview youth at risk for ending up dead or in jail came face-to-face with the mayor Wednesday praising a two-year-old City job skills building program.
The Garden Project originally drew ex-offenders aged 18 through 24-years-old into street gardening, as developed by Catherine Snead of the San Francisco Sheriff's Department.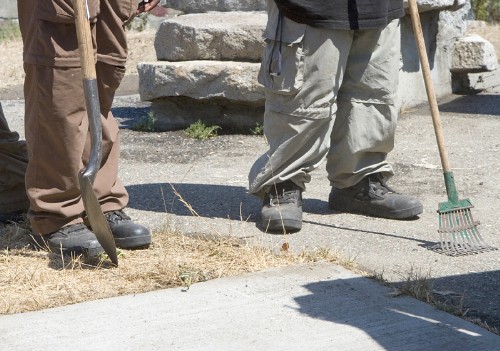 Two years ago the Board of Supervisors and Mayor's Office joined in expanding the program through community recruitment overseen by the San Francisco Public Utilities Department.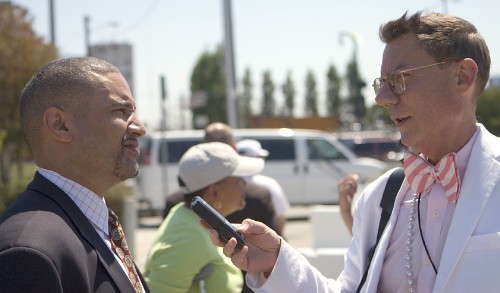 Harlan Kelly, left, first studied a similar program operated by Catherine Snead for ten years and incorporated its expansion into broader City services. Kelly serves as PUC assistant general manager for infrastructure.
Newsom visited one gardening team at work on a waste water project near Third and Arthur Streets.
One 19-year-old woman who raised her younger brother on her own since she was 13 said the program enabled them to survive.
"This helped me out a lot too because both me and my brother are both in our home and both of our parents are deceased," Chastity Henderson told the mayor.
She said she raised herself after death of both parents.
"It was basically myself.
"It was too much juggling around with my aunt so friends, family. It was just too juggling around.
"I wanted to at least stay here until he graduated and then do what I wanted to do."
Seventeen-year-old Robert Raney had been the random victim of a drive-by shooting on Third Street while on his way to school.
"I attend John Adams," Raney explained, "I was shot on my left."
Participants attend classes at New College and job placement is provided by the City following program completion.
####