CLINTON LATE FOR APPEARANCE
AT NOB HILL MASONIC CENTER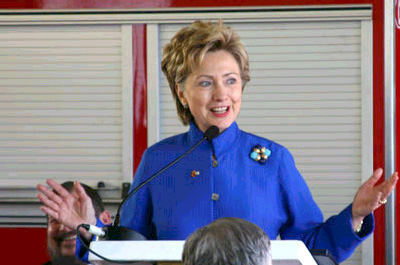 Senator Hillary Clinton. Photo courtesy clinton.senate.gov
By Brigid Gaffikin, Bay City News Service
January 28, 2006, 9:26 p.m.
SAN FRANCISCO (BCN) - Sen. Hillary Rodham Clinton was running late tonight for a scheduled appearance at San Francisco's Nob Hill Masonic Center.
Around 8:30 p.m., Joan Haratani, president of the San Francisco Bar Association, told the waiting audience that Clinton was "on her way.''
The announcement provoked some hissing and commotion, and some members of the audience stood and walked out of the auditorium.
In the hours leading up to tonight's event, which was scheduled to begin at 8:15 p.m., California Street was lined with media vans and police cars in preparation for the New York senator's arrival.
Clinton is slated to be interviewed on stage by television personality Jane Pauley in an event that will benefit the charitable programs of the Bar Association of San Francisco.
Around 6 p.m., protesters gathered outside the auditorium waving signs and banners. Several groups, including Code Pink and World Can't Wait, protested Clinton's support of the war in Iraq.
The steady rains sent most of the protesters away by 7:15 p.m.
Meanwhile, inside the center's foyer, a crowd of all ages gathered, drinking wine, talking and waiting for the auditorium doors to open. Unobtrusive police and secret service agents dotted the room.
Around 7:30 p.m., a handful of protesters from a group calling themselves 10 Against Torture made their way into the foyer. They threaded through the room, two dressed as armed security guards, one wearing a black hood and another clad in an orange jumpsuit.
They attracted stares and caused a small ripple before being led out by security guards.
Deeper into the crowd, protesters held large, white signs with red letters reading "Witness against Torture'' and "Guantanamo. Say no!
Guantanamo.'' The signs prompted a few hostile remarks but otherwise received scant attention.
Most of the crowd seemed excited to hear Clinton speak. Sarah Bothe of San Francisco said she wanted to hear what Clinton has to say in case the senator runs for president in 2008.
Sandro Tuzzo of San Francisco said he decided to attend tonight because he "wanted to feel connected with the national theater.''
Copyright © 2006 by Bay City News, Inc. -- Republication, Rebroadcast or any other Reuse without the express written consent of Bay City News, Inc. is prohibited.
####