COCAINE FOUND IN ABANDONED SUITCASE AT SFO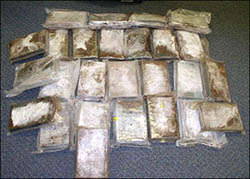 Photo courtesy DEA.gov

By Brigid Gaffikin, Bay City News Service
February 2, 2006
SAN FRANCISCO INTERNATIONAL AIRPORT (BCN) - An unusual lost luggage item -- an abandoned suitcase containing close to 50 pounds of cocaine -- represents the largest single seizure of cocaine ever at San Francisco International Airport, Immigration and Customs Enforcement officials reported today.
The suitcase turned up in the international terminal on Jan. 12. Investigators are not commenting on what it looks like, where it might have come from or who might have brought it into the United States, Virginia Kice, an ICE spokeswoman, said.
"We have an open and ongoing investigation so we're not talking a lot about it,'' Kice said.
The Bay Area street value of the 22 kilograms of cocaine would probably be about $2 million, although that figure would vary depending on the drug's purity and country of origin, said Casey McEnry, a spokeswoman for the U.S. Drug Enforcement Agency.
Cocaine brought into the U.S. from overseas is unlikely to have been adulterated, so anyone selling it here could increase their profits and the drug's cost by adding other substances to it, McEnry said.
"I would be quite surprised if someone shows up to claim this piece of lost luggage,'' Kice added.
Copyright © 2006 by Bay City News, Inc. -- Republication, Rebroadcast or any other Reuse without the express written consent of Bay City News, Inc. is prohibited.
####