New city commissioners, board members announced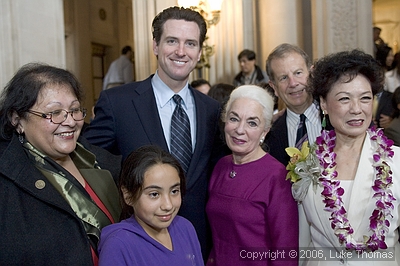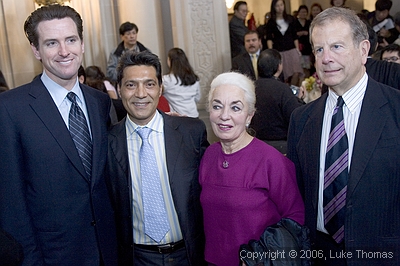 Photo(s) by Luke Thomas
From the Mayor's Office of Communications
January 19, 2006
Mayor Newsom yesterday announced new appointments of the following individuals to city boards and commissions:
City Hall Advisory Commission
Mae C. Woo is a native San Franciscan and committed "volunteer-at-large" now that she is semi-retired from her career as a real estate broker. Ms. Woo has served on the California Service Corps, formerly known as the Governor's Office on Service and Volunteerism, since 1996. She is committed to involving California's residents in improving the efficiency and effectiveness of community programs for emergency and disaster preparedness. Ms. Woo's other passions lie with her home community - San Francisco's Chinese residents. She seeks to preserve family values while strengthening future leaders through local nonprofit organizations such as the Woo Family Association Women's Auxiliary and the Chinese Consolidated Women's Association.
A lawyer for more than 36 years and a regular member of San Francisco citizens' organizations and City commissions, Jim Haas is also a native San Franciscan. Mr. Haas' recent work has included the development of vacant land parcels in San Francisco and St. Helena. He also has experience as a public administration consultant evaluating land use and as the Director of Training for Project Head Start in Washington, D.C. Mr. Haas joins the Commission with a wide background of City Hall experiences, including, but not limited to, membership on the TransBay Area Planning Citizens Advisory, Mayor's Treasure Island Reuse, and South Beach-Rincon Point Citizens Advisory Committees.
Ellen Schumer is a businesswoman with a background in art history, design, and political science. As a San Francisco business owner for 11 years she also produced educational seminars in her stores and in the community for schools, businesses, and private organizations. Ms. Schumer is a Lifetime Member of the San Francisco Historical Society and a contributing member to the San Francisco chapter of the American Red Cross. She is also a member of the Film Society and on the Board of Temple Emanuel.
GeeGee Platt has worked in the field of historic preservation for over 25 years. Her business, G. Bland Platt Associates - Historic Preservation Consultants, consults on architecturally and historically significant properties. Mrs. Platt was appointed to San Francisco's Landmarks Preservation Advisory Board when it was created in 1967 and served until 1980. During that time she served on the Board's Architectural Review Committee, which determines the appropriateness of proposed changes to historical buildings, and on the Redevelopment Committee. Mrs. Platt is also well versed in historic preservation laws and ordinances and has extensive experience with the State Office of Historic Preservation. Mrs. Platt has served on several City commissions and is a former director of the California Historical Society.
A licensed architect and project manager with over 24 years of experience, Anne M. Cervantes brings innovative ideas in planning and urban design to the Commission. Ms. Cervantes has extensive architectural experience within San Francisco, ranging from high-rise buildings to elementary school building renovations and childcare center designs. Ms. Cervantes has also served on numerous Boards and Committees, including as Vice President of the Executive Board of Trustees for the San Francisco Mexican Museum. During Mayor Brown's administration she served on the Executive Committees for both the San Francisco Economic Summit and the Woman Summit, and has been on the Board of Directors of San Francisco Planning & Urban Research and San Francisco American Institute of Architects.
Small Business Commission
Gus Murad is well known to many for his Mission District restaurant, Medjool. Mr. Murad opened Medjool and its adjoining hotel, Elements, in 2004 with 25 employees; he currently employs over 65.Mr. Murad is an advisory board member for both the Mission Housing Development Agency and the Mission Merchants Association. His passion for hospitality and love for his adopted city of San Francisco show in the quality of his businesses.
In addition to these new appointments, Mayor Newsom reappointed the following individuals:
Redevelopment Commission - Ramon Romero
Small Business Commission - Richard Ventura
Fire Commission - Paul Conroy
####