Supervisors pass legislation limiting San Francisco condo conversions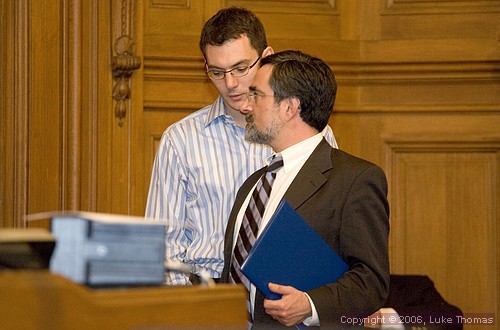 Supervisor Aaron Peskin (foreground) with legislative aide, David Owen, authored the legislaton placing restrictions on certain types of condominium conversions.
Photo(s) by Luke Thomas
By Angela Hokanson, Bay City News Service
May 17, 2006
SAN FRANCISCO (BCN) - Legislation that places restrictions on condominium conversions of buildings where certain types of evictions have occurred was passed 7-3 yesterday by the San Francisco Board of Supervisors.
Under the legislation, condominium conversions would not be permitted for buildings that had experienced evictions of members of the "protected class" of tenants, according to David Owen, legislative aide for Supervisor Aaron Peskin. This protected group of tenants includes people over 60, the disabled, and the catastrophically ill, Owen said.
Conversion to condominiums would also be prohibited for buildings where there had been two or more evictions on or after May 1, 2005, according to Owen.
The restrictions on condominium conversion for buildings with these types of evictions would last for 10 years, Owens said.
Supervisor Aaron Peskin, who co-sponsored the legislation, said that the ordinance is "a responsible attempt to balance the protection of vulnerable tenants" with the need to maintain paths to home ownership.
According to the text of the ordinance, the legislation "will create greater opportunities for conversion of those buildings where evictions have not occurred and where non-owning tenants are afforded the ability to purchase the units in which they reside.''
Supervisors Michela Alioto-Pier, Sean Elsbernd, and Fiona Ma voted against the legislation. Supervisor Ross Mirkarimi was excused from the vote.
The legislation will now be turned over to the mayor's office.

Copyright © 2006 by Bay City News, Inc. -- Republication, Rebroadcast or any other Reuse without the express written consent of Bay City News, Inc. is prohibited.
####