Conroy resigns her post
at Office of Emergency Services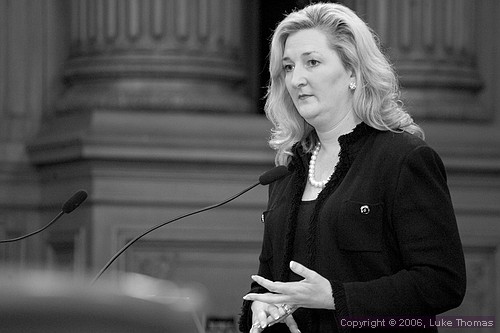 Embattled former Executive Director of the Office of Emergency Services,
Annemarie Conroy, tendered her resignation today.
Photo(s) by Luke Thomas
By Luke Thomas
January 3, 2007, 9:30 a.m.
Former Executive Director of Emergency Services Annemarie Conroy, recently demoted to a position as manager has, according to unconfirmed reports, tendered her resignation earlier today.
Calls to both the Mayor's Office of Communications and the Office of Emergency Services to confirm the report have not, as yet, been returned.
Update 11:38 a.m: According to a reliable source at OES, "The Mayor's Office is going to be putting out a statement shortly."
Update 3:00 p.m: The Mayor's Office of Commuications has released a statement following Conroy's resigation. The press release also includes Conroy's letter of resignation.
####