COURT JESTERINGS
With h brown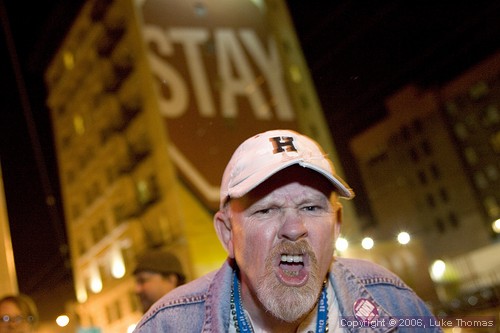 Photo(s) by Luke Thomas
Watching Krissy run for Kongress XVIII
(for mature audiences only)
September 24, 2006
By h. brown
Who's your momma?
(Installment 1 of fiction serial)
National Guard enters San Francisco
(Bush claims Green stole election from Pelozzi)
The devastation to the City had been mind numbing. Over 75,000 killed. More than a quarter million wounded. By the time San Franciscans went to the polls on November 7th, 2006, every building in town over 10 stories tall had been destroyed or abandoned. No motorized traffic moved. Snipers ruled every major hill and fired with deadly accuracy in arcs of up to a half mile. Beautiful young men and women sold sexual favors on street corners and in bars for a meal and some alcohol (at least some things hadn't changed).
"It was that god damned poll that started it all!"
(former Congresswoman Mandy Pelozzi)
She was right too. Speaking from her cave near a small town in Northern Sicily, Pelozzi recalled the outrage of her wealthy patrons when the results of the survey by the City's most respect pollsters (I. B. Lion) appeared in the Whorst chain's, 'Morning Dingleberry':
"If the election were held today, who would you vote for
in the 8th U.S. Congression District?"
Chrissy Reefer: 21%
Mike DeNounceYall: 19%
Ice Berg: 15%
Peace & Freedom: 11%
Mandy Pelozzi: 9%
Undecided: 15%
Leave me ta fuck alone: 10%
Pelozzi: Who would have thought that 'I. B. Lion' would tell the truth?
Josh Fox: Is that when the Flasher family ordered the assassinations of 'the three'?
Pelozzi: (shakes head and takes another shot of straight vodka) - Yeah, and that wasn't my idea.
Fox: Let me read to you the way it was written up in the amazing, best-selling novel 'Brown Knows' and you tell me what's right and wrong with the description...
People who were there said that Donald Flasher
wanted Reefer and Brown and Dis Daly dead.
He contracted out to different terrorists groups
to do the job. Any truth to that?
Pelozzi: (nods and starts chugging directly from bottle - wipes mouth) - Look, we had historical precedent on all of this stuff. It worked for the Whorsts when they blew up the battleship 'Mange' in Cuba. Christ, we're still in Cuba. It worked for Hitler when he blew up his own parliament (sniffles and opens drawer to dressing table from which she withdraws a small mirror covered with rows of a white powder and small sections of hollow glass tubes - starts snorting the powder - gives sigh of relief and continues)
Pardon me. (shakes head again)

This is about all that gives me any relief these days. Where were we? Oh yeah, well,
everyone knows that disaster unifies your base and there's no disaster like the ole 'suprise attack upon our noble Christian nation by third world barabarians'."
Fox: (nods & tries to get back on point) - Let me just read a few paragraphs from this amazingly wonderful work by Noname Brown.
The minute the poll hit the internet we started getting calls with offers of money and, more importantly, volunteer workers. I passed out that night with a smile on my face. I knew, along with a small cadre of advisers, that we were going to win. Pelozzi was hated here and this was the proof. The only thing that could stop us was killing us and they weren't going to do that. Then, I was awakened by the sound of a menacing drone.
I am awakened by the sound of a menacing drone ...
Did I mention that I was awakened by the sound of a menacing drone that was drawing closer and closer? It drowned out the crashing symphony of the Mafiosi trash trucks that always picked up garbage at every building in town between 3am and 5am every night. It was different but sounded somehow familiar. My muddled brain flashed back over 40 years to my time in the Mediteranian with the 6th Fleet. Panicked, I looked out the window but things appeared the same. There were two cops assaulting a prone homeless guy while a small group of crackhead whores and burglars sold their wares in UN Plaza below me. The roar got louder and louder and we all looked up in time to see the contrails of a missile fired from a drone aircraft clearly outlined in the full moon over City Hall ... I knew right away that it was a Hellfire rocket and it was aimed at my asshole!
I ducked down under my window ledge as a twin to the wingless rocket that hit the Pentagon on 9-11 crashed 3 floors above me and destroyed the top 2 stories of my old folks home. I recall congratulating myself for putting all the 'Dis Daly for Supervisor' and 'Free Fox' and 'Reefer for Kongress' signs in the window of a vacant unit instead of my own. The missile had entered the window of that very unit dead center. Debris crashed to the streets between my building and the Renoir hotel across the way. Nude Japanese tourists leaned out the hotel's windows and took shots of the opening salvo of the ... 'Battle of San Francisco'.
I knew from my years in emergency rescue that everyone up there was dead and that there was nothing I could do to help them. I knew that all of the electricity in the building was out and that I couldn't get any news on my radio, tube, or computer. If I reached a phone, they'd only know I'd survived. My mind raced through my meager range of options.
I knew they would probably send a hit squad to dig through the rubble and confirm I'd been killed but that this wouldn't happen til after daylight. What could I do with the 3 remaining hours until daybreak? I decided to eat the ice cream in my fridge before it spoiled, jack off, and go back to bed til the Morning Dingleberry hit the news stands. It made sense."
So, they were going to play hardball.
I was awakened by the sound of cackling radios and the whine of rotating FD aerial ladder trucks who were still pouring water on the building. With no water available, I wiped KY jelly across my face and legs, shaved and put on a little kind of paisley print thing summer dress, sunglasses and a bonnet. Snatching a simple black parasol, a flask of bourbon and some 'Chrissy for Kongress' buttons, I headed downstairs flirting with firemen and steroid-pumped Swat teamers who all avoided looking at me. The plan was working perfectly. I thanked my stars for the breadth of my simple, yet elegant wardrobe and headed for my safe room deep beneath Tommy Ammianyo's house. Tom would either know what to do or have something strong to drink. He's such a doll. I twirled my umbrella as I inserted 2 coins and drew a Morning Dingleberry from the news rack. The headline screamed at me:
'Green Party terrorists suspect in hotel attack!!'
(Jim Dorencrap beaten senseless resisting arrest)
Well, at least some good had come from all the destruction. I thought back to the words of SF Board spiritual adviser, Sylvia Johnson when pressed by Daly to come to the point in addressing his committee during public comment:
"Well, I'm sorry that all these people died,
and I'm doing all that I can about it
but it's a wild goose chase."
(next installment: sniper targets bicyclists)
h. brown is a 62 year-old keeper of sfbulldog.com, an eclectic site featuring a half dozen City Hall denizens. h is a former sailor, firefighter, teacher, nightclub owner, and a hard-living satirical muckraker. Email h at h@ludd.net.
####
Editor's Note: Views expressed by columnists published on FogCityJournal.com are not necessarily the views or beliefs of Fog City Journal. Fog City Journal supports free speech in all its varied forms and provides a forum for a complete spectrum of viewpoints.