COURT JESTERINGS
With h brown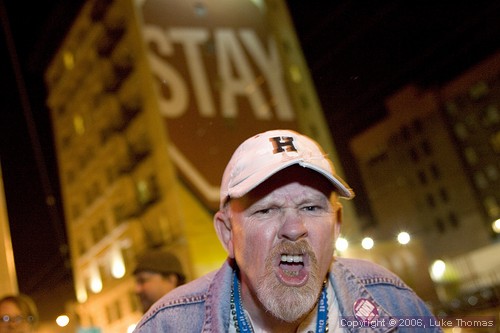 Photo(s) by Luke Thomas
Court Jester rides cable car to stars
November 5, 2006
By h. Brown

"Hmmm, gang bangers for Black?"
(Jens observes crack in universe)
We were standing on the corner of 16th and Mission waiting for Krissy Keefer's cable car coach, all loaded with Taiko drums and goodies galore for our 3-hour cruise around sun-drenched San Francisco.
I doubted it possible to top our last ride when we'd crawled around a crowd of 300,000 Halloween revelers, drank fine wine and watched Keefer's well-drilled Dance Brigade chorus drip sweat on Market street surrounded by glaring cops. Now, that was some ride.
But, that was 72 hours before and then is then and now was, as they say, now. My thoughts darted back to that last ride as I lit a cheap cigar and took a nip. Yeah, that was some night. The coolest and sexiest people, most in costume, wandered salaciously around the coach. Vampires and call girls and what looked like one of the Amish brethren.
Jens Nielsen dressed as a cab driver? His honey, Leona Gonsalves, dressed as a gypsy girl (ooh, oooh). Robert Manes was there dressed as h. brown! That's a first in my life. It was hilarious and I'm forever grateful to Robert. He wore a beige baseball cap with the big 'H' in the center and all the potpourri of bling I wear, right down to the Bulldog Press Pass.
So, this was our second run with the cable car. This one hooked up at the Daly HQ war room.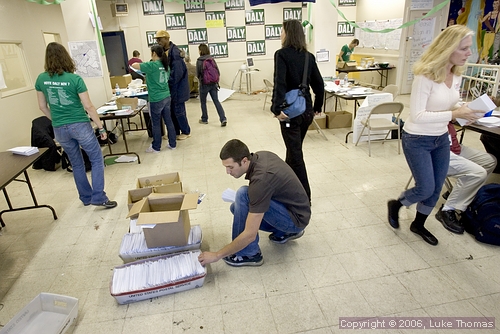 Busy Daly '06 campaign volunteers at Daly campaign headquarters, 16th and Mission.
The call had gone out several weeks ago that Chris needed all the support he could get and, like other campaigns with comfortable leads in our own races, we'd diverted resources into the Daly base. By yesterday it was gargantuan.
Krissy offered an hour of her 3-hour rental time to the Daly campaign for cruising District 6.
Luke Thomas and I met up and jumped on BART and met Marc Powell who'd been walking the Tenderloin for Chris. We went into the 'Bad boy's headquarters so's I could harass a select few to try and elicit something pithy.
Luke photographed Chris' and his mom, Mrs. Daly. Me? I was being diplomatic (don't laugh). I went over to Anthony Faber and asked him what it felt like to have turned the online Junto chat-room into 'The Wall' West. I asked Bill Barnes if it was true that he wore a Rob Black butt plug while working for Daly. You know, the kinds of questions any good reporter might ask.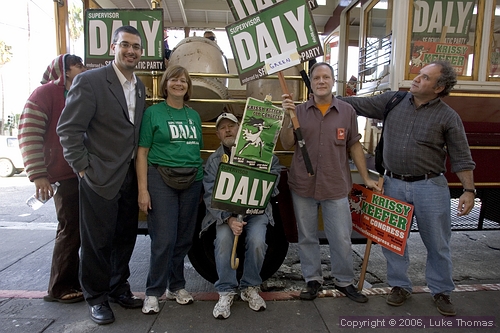 Marc Powell, Chris Daly and Mum, h. brown, Doug McAbee and 'Bear Man'.
Meanwhile, the Black campaign was meeting in an underground Bunker with Newsom waxing poetic to all of Black's troops (both of them) a few blocks away.

Daly HQ vs. Black HQ
There were literally hundreds of people moving in and out of Daly headquarters, a 10,000 square foot compound located in the heart of Daly country. Daly signs, large and small, dominated all four corners of BART plaza as campaign volunteers rang out their chants.
Many of Daly's supporters arrived on bicycles, pogo sticks, and trucks. Charles Kalish arrived in a retro stake-bed gardening truck that had bright red 'Krissy for Congress' and bright green 'Daly for Supervisor' signs strung across cab like rubies and emeralds on a Tierra.
I poured a half cup of coke into my life-saving bullet-dented pocket flask to spike up the bourbon I had secreted for the festivities and then moved out to the street to wait for Krissy and to give some pizza to Black's paid campaign sign holders.
Black's paid campaign workers were content to holdup Black campaign signs while wolfing down Daly's pizza.
The BART station plaza was all about politics. Jane Kim had a cadre of young asian volunteers holding Kim and Daly's signs along with a revolving stream of Daly workers who moved in to tape and prop up the new style light-plastic signs everyone seems to be using these days. I hate 'em. They're too big, too light and I'm doubting my ass off they're bio-degradable.
Black's campaign workers told us they had no idea who Rob Black was but that they were being paid $15 an hour to sit next to the 3 or 4 signs they had propped up in the plaza among the sea of Daly, Kim and Keefer placards. We got along with them.

Video of Daly speaking to campaign volunteers Saturday morning.
"It's the first time anyone every paid me to sit out here," noted one Black campaign worker.
In the distance, we heard the sound of drums coming our way.
Taiko drums rule
Taiko guru Bruce Ghent played with Debbie Lammam and Keefer as the motor-coach version of the classic SF cable car rolled into the intersection. These vehicles can't be recommended enough for these kinds of gigs. Open seating, front and back, amidst the sumptuous brass and lacquered hardwood bench seating.
The coach is divided into three parts with front and rear open and the center section glassed in for comfort. Essentially, the center section is the bar car. Works nice.
The young lady driving settled the cable car into a space in front of Daly central and Thomas took a couple of shots next to the vehicle. Luke posed Krissy in a Leonardo da Vinci vitruvian pose framed inside the SF icon replica.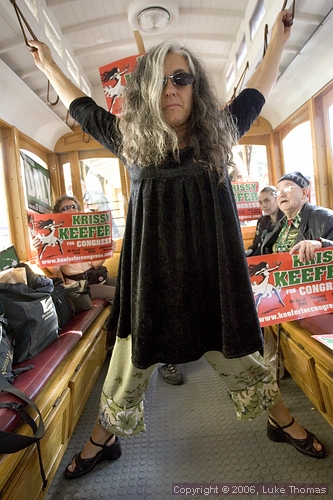 Krissy "vitruvian woman" Keefer
Living and unliving copies of art history. Very fitting.
The tour itself was intense. We made two passes through District 6, dropping and picking up Daly workers, then stretched out to the Marina where we posed in front of the venerable Safeway supermarket where men meet women, women meet men, women meet women, and men meet men, and occasionally people buy groceries.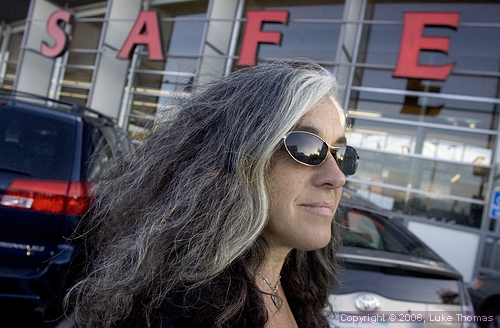 Doug McAbee and a guy I labeled 'bear man' carried bags of Daly's green beads and divvied them out by tossing them at people as they smiled at all the commotion. We covered North Beach and the Haight too. We were all super-pumped, yelling and singing and everyone but me took a turn at the drums.
It was glorious.
But Krissy was exhausted and I looked at her from across the coach and my heart went out to this hard fighting warrior queen.
An intense female SF State photojournalism student was covering Krissy's campaign for a term paper and for SF State's newspaper, clicking away as Keefer closed her eyes and rested despite the pandemonium of thumping drums and screaming campaign volunteers.
This wouldn't be the last energy draining event to end her day. She still had a full show to do for Mani-fest-ival at Dance Mission. The show runs through tonight too, by the way. Dance Brigade will perform their 'Cave Women' show at 6pm.
Conclusion
Daly will win. So will Keefer
I can hardly wait until Wednesday morning to write the, oh so many things, that I haven't written throughout this campaign.
Krissy for Congress!
Daly - 4 more years!
h. brown is a 62 year-old keeper of sfbulldog.com, an eclectic site featuring a half dozen City Hall denizens. h is a former sailor, firefighter, teacher, nightclub owner, and a hard-living satirical muckraker. Email h at h@ludd.net.

####
Editor's Note: Views expressed by columnists published on FogCityJournal.com are not necessarily the views or beliefs of Fog City Journal. Fog City Journal supports free speech in all its varied forms and provides a forum for a complete spectrum of viewpoints.