COURT JESTERINGS
With h brown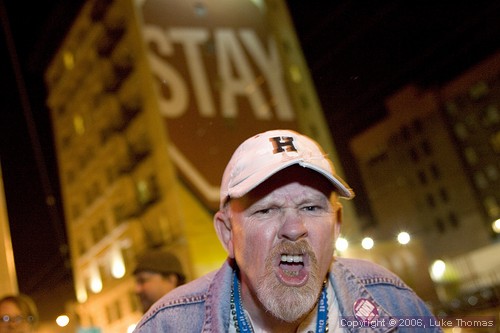 Photo(s) by Luke Thomas

Court Jester analyzes Peskin and Pier port pork push
November 30, 2006
Why SF needs new Board prez
It's very possible that the acre and a third presently occupied by the St. Francis Yacht Club is the most valuable piece of land in the world. However, you'd never know it from watching the description of the parcel before, first, the Board's Land Use Committee, then in front of the full Board this past tuesday before Thanksgiving.
The committee hearing raised alarms right away. A City appraiser stood to explain how the parcel (priced at roughly a third the value of normal SF commercial property) had gained no value since 1998. Harvey Rose of all people then explained that renting the land to the St. Francis for the next 47 years at that price made sense to him. Chris Daly, normally a watchdog on such items, was distracted during the debate and away from his desk for much of the time it took to rush the item to the full Board and actually voted for it. Daly was on vacation this past week when Peskin and Pier again rammed the odious contract past the full Board on a 6-4 vote.
Worst part of the deal
There's no guaranteed public access to this land. Oh, they tossed in some kind of bogus 'youth training' or whatever provision in the document, but the club can simply pay an extra 50k yearly into a Park & Rec account (run personally by Director Yomi Agunbiade) and simply not let anyone who isn't a member inside any of the club's facilities. Just as is now the case.
There was a big uproar around 5 years back when then supervisor Gavin Newsom guaranteed club members that there wouldn't be any little ghetto kids wandering around those piers even if Gerardo Sandoval and Sophie Maxwell were planning excursions from their individual district housing projects. The thing just kind of went away quietly as Park & Rec instead picked up the kids in their vans and took them out of town instead. The St. Francis and its piers remained the sacrosanct domain of the wealthy.
Peskin is a tool of Donald Fisher
And, the rest of the moguls. Earlier this year, Aaron pushed through a measure that can eventually mean that the Fisher family will control all of the 'public' recreation fields in the City. A slick little piece of legislation, that one. The Fisher family puts up a few million to install astro-turf fields over public playgrounds that presently feed our ever-shrinking aquifer. In exchange, daddy Fisher has handed control of scheduling for use of these fields over to his progeny. Much as he created a lumber company up north to cut redwoods from Mendocino County south. One of his son's runs it and they're even moving to log the Bohemian Grove, for God's sake.
Other 'gift' fields (outside the City) covered with synthetic playing surfaces have been charging youth soccer teams that previously used the dirt fields for free, are now charging them $160 an hour to use the suffocated fields. Watch and see if that doesn't happen here.

Peskin not only shepherded that little piece of legislation through for the Fisher family, he also made certain that future privatization of every single field in the City could proceed without ever going back to the Board of Supervisors. Who gives approval? Why, it's Director Abugiande! This is the same guy who was Willie's Capital Projects director for Park & Rec who had no trouble moving 10's of millions from services for parks in poor neighborhoods, to the disastrous Harding Golf Course rebuild.
Get used to the Pier/Peskin team
Only McGoldrick smelled a rat. He and Sandoval tried to send the measure back to committee for a proper hearing, but Pier and Peskin would have none of it. Pier kept ranting that the measure had been studied thoroughly (bullshit) and Peskin kept looking at his watch and saying that they had a full agenda (more bullshit) and by a 6-4 vote, they managed to get it passed on first reading. Amazingly, Sophie Maxwell voted to allow the Swells to buy their way out integrating their digs on City property. It is a travesty and should be reversed. Hell, they only ran this crap now because Peskin figured he had the votes. The lease on the property actually has another 7 years to run. What's the rush? The rush is that the club's stars were aligned. They had the support of the Mayor, the Board President, the district 2 supe, the Budget Analyst, and the City appraiser. Plus, a Board anxious to get to their Thanksgiving break.
They get this 'finally passed' and save the club at least 50 million (even with the 50k a year conscience money) over the life of the lease and they get to refuse service to Sandoval and his kids as an added bonus. There's time to right the wrong.
Ed Jew to the rescue
This lease needs another look. For that to happen, it needs to go back to the Land Use committee. For that to happen, Chris Daly has to vote to send it there and either Sophie Maxwell has to change her vote (she owes it to the black children Newsom shut out from the piers) or, ... and this is definitely the most intriguing ... Ed Jew can hit the ground running next Tuesday (and, make headlines) by calling for another look-see at the lease and it's provisions.
Since you can pretty much bet that most of the wealthy yachtsman donated to Jew's opponents in his just passed D-4 supe race, it would be an announcement of his independence from them and a promise to study their future proposals with an eye toward economy and the public interest.
Odds and ends and odd ends - Anybody but Peskin for Board Prez
If Aaron Peskin is re-elected as President of the Board of Supes, the next 2 years will see a rush toward more and more privatization of the most precious gems amongst the City's crown jewels. His sell-out to the St. Francis Yacht Club and to the Fisher's is only the beginning. He'll bring in an outside firm to handle the City's golf courses. Rebuilt public stables will be placed under the control of a company of Marin polo players. Clear Channel will take control of the Bill Graham auditorium. The opera crowd will finally chase the remaining veterans from their building across from City Hall.
I'm not making any of this up. Every bit of it has been proposed either before the Board (golf courses and stables) or directly to the voters (Veterans building) and rejected. They remain goals for the most wealthy who feel they must control absolutely everything and have the public pay for it. And, Peskin now represents them. Like the deal he and the mayor made with Comcast on your behalf? How about the Wi-Fi deal? Just thrilled about non-union and much litigated, category killing (they kill neighborhood businesses) Home Depot moving into town?
The strategy
You gotta hold Aaron to 5 votes on the first round. Those will be the furthest right. Sean Elsbernd is sounding like a cross between Peskin's campaign manager and 'M' half of an 'S and M' duo ("He's able to control me when I get out of line."). So, you have Peskin, Elsbernd, Pier, Dufty and Mirkarimi locked into Peskin (see if Sean doesn't end up head of Budget Committee next year). Oppose that with candidacies for McGoldrick and Maxwell. I see it all ending with Ross Mirkarimi as Board President after a half dozen or so rounds of voting. Hey, I can hope, huh?
Welcome to Ed, Hazel and Barbara
Word is that Rookie, D-4 supe Ed Jew will be bringing in neighborhood organizers and activists, Hazel Lee and Barbara Meskunas as legislative assistants. I don't know Lee, but Meskunas is one of the better political minds in the City and is connected to every major power player in town either as friend or foe through her years of fighting for the neighborhoods. Good luck to you all.

h. brown is a 62 year-old keeper of sfbulldog.com, an eclectic site featuring a half dozen City Hall denizens. h is a former sailor, firefighter, teacher, nightclub owner, and a hard-living satirical muckraker. Email h at h@ludd.net.

####
Editor's Note: Views expressed by columnists published on FogCityJournal.com are not necessarily the views or beliefs of Fog City Journal. Fog City Journal supports free speech in all its varied forms and provides a forum for a complete spectrum of viewpoints.