COURT JESTERINGS
With h brown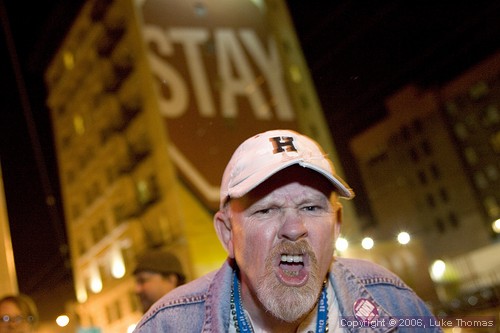 Photo(s) by Luke Thomas

Court Jester hosts Fog City/Bulldog Xmas Day bash
December 26, 2006
"What a sensational party. You're friends really love you."
(Krissy Keefer)
Well, there's no accounting for taste, Krissy. But the 'fun' part of a party... you can't buy that with decorations, booze, good food, drugs, or sex.
But, what the hell, we tried anyway.
While Bulldog columnist Alexandra Jones spent her Xmas roaring down through the Mississippi river valley on the fabled City of New Orleans rumbling old passenger train that Arlo Guthrie wrote about 40 years ago, a spectrum of my new and old friends gathered at her spacious combination residence/art gallery/museum on Page street in the lower Haight.
The Cohen's were out in force
Damn, that made me happy! I hadn't really spoken to Daniel and Becky since I borrowed their motor home for the opening day of Krissy's campaign for Congress and promptly tore off the back bumper trying to parallel park the colossus. It was great to see they weren't still mad at me.
Best buddies for over 25 years now. They brought their whole brood and a talented and handsome lot they are.
Eric is 24 and a Civil Engineer working out of Santa Rosa. Aimee broke her leg last year while on soccer scholarship at the University of Hawaii and is now back in school in Sonoma where her clan hails from. Stefan is a Junior in high school in Rohnert Park and hell of a guitar player.
Hell, let's go to the photos
Fog City publisher/pianist/photographer/composer Luke Thomas didn't take out his camera until late into the evening, but he caught some interesting shots by the time we were all enraptured in the Christmas spirit.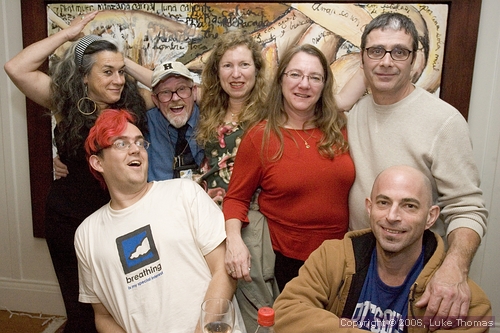 That's Becky and Daniel propping themselves up by leaning on our two Marc's. That's, Salomon on the right, and Hmoob on the left. Envy Jester holding on for life to two hot Greens; Katherine Roberts on the right and Krissy Keefer on left. Note the Chagal collage in the background rumored to have sold for over $40 million.
Thomas' date reacts to a request to be identified as Thomas' date. Note the Picasso leaning against the wall to her right. It is estimated to be worth over $100 million. To her right (your left) can be seen the top of a Van Gogh self-portrait which has not as yet been appraised.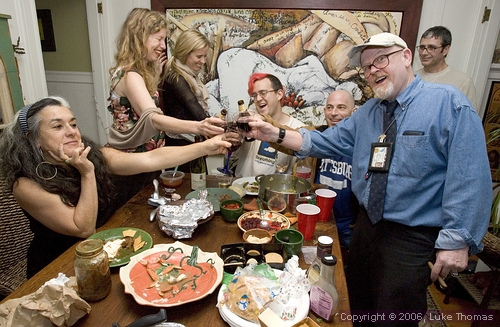 Jennifer Siebel (background left) came with poet Patrick Cassidy who joins the in-crowd toast to Keefer's defeat of Matt Gonzalez' write-in ruse.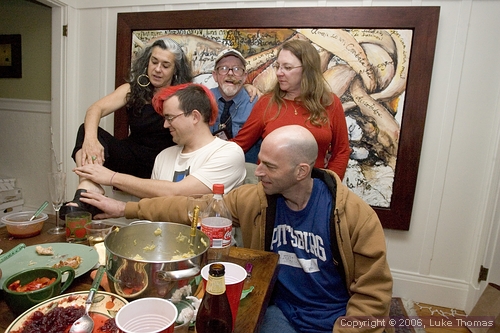 The Marc's and Becky check out a new flea bite on Keefer as Jester smokes a Castrovian stogie in the background.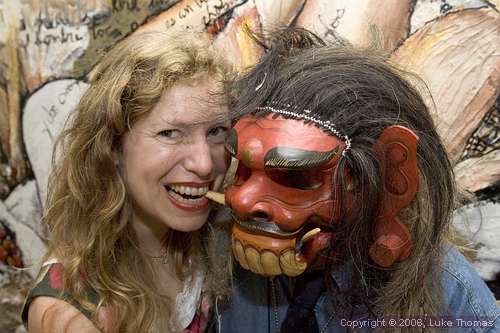 The ravishing Katherine Roberts and Green stalwart Jim Dyer arrived on matching fold-up bikes, but Roberts took a liking to this Fog City contributor, up from Hell for the night.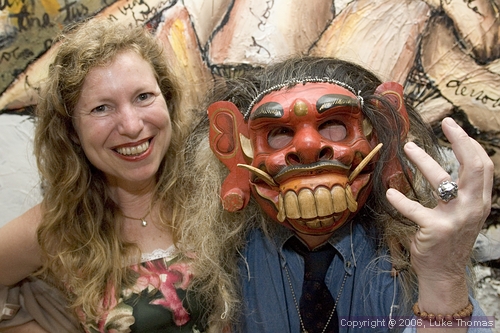 The demonic Jester announces engagement to Ms. Roberts.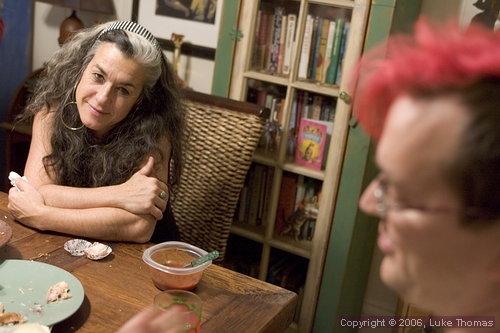 Keefer seems to be staring adoringly at the camera, or the cameraperson, but friends know that without her glasses she can't see more than 2 feet in front of her.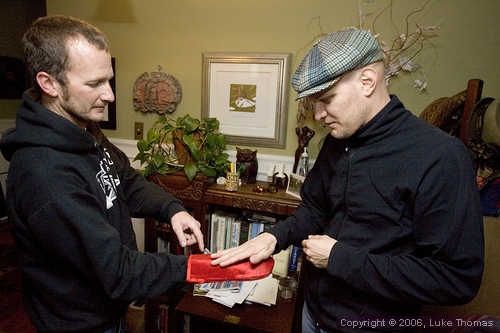 Chris Gramley administers secret oath of silence ('What happens at this party, stays here!') to a somewhat reluctant photojournalist, Adam Aufdencamp, mainstay at Fog City. Note the priceless Etruscan sculpture hanging on wall behind Gramly.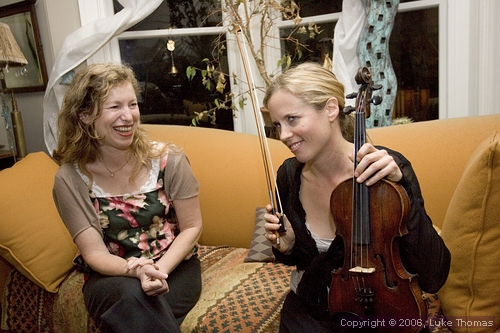 First request from audience is not for another melody but for photojournalist/violinist Sarah Sewell to spank Greenie Roberts with her violin bow. Roberts is amused.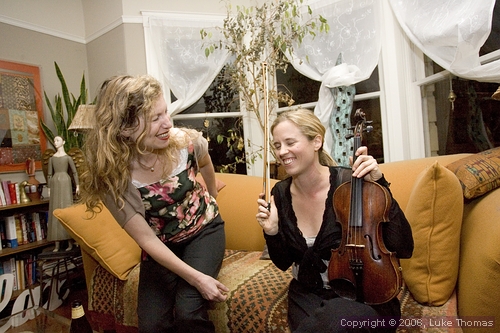 Sewell prepares to swat Roberts. Note the surreal metal sculpture of the Trans America building, wrapped in a shroud-like curtain in the window, and the priceless antique doll on left said to have belonged to Marie Antoinette as a child.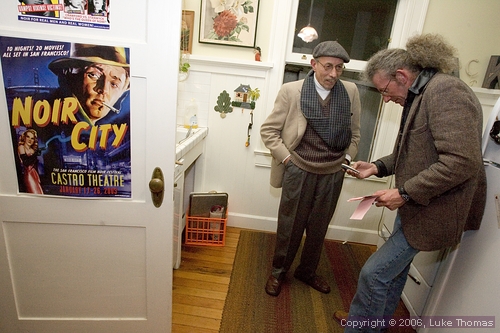 Irish painter/poet Charlie Lennon calculates how much time he has left until he passes out while a bemused Persian sculptor, Abbas, watches on. Note the Andy Warhol installation on floor in front of the sink. It's called 'Cookie sheet in milk crate' and is not for sale at any price.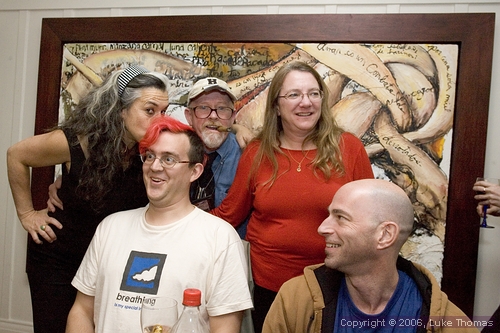 Keefer spontaneously sticks tongue in Marc Hmoob's ear.
What a party. Beth Rogozinski and hubby John Bokelman (he's a radiologist at St. Francis' in the Mission) brought a second turkey and we needed it. The Cohen's brought crabs to crack and lots and lots of sushi. Ania Wierzbowska made the first Xmas bird and it was juicy and delicious as always. She and fiance Robert Manes prepared the yams and baked fresh bread and provided cranberry sauce and lots more. John's mom sent enough homemade chocolates and cakes and peanut brittle to keep a small town of dentists busy for the next couple of years. Cassidy provided booze and helped cloud up the kitchen where guests gathered at the open window.
My daughter Mona and hubby Kudzai (they're the Nyandoro's of Fresno now due to gentrification) brought my angelic San Francisco born grandchildren, Tandiwe (she's 4 on Lincoln's birthday), and Wesley (he'll be 1 on New Year's eve). I remain in awe that I actually have a family after all of these years on the road.
Salomon and Luke took turns being VJ's (videojournalists) with offerings from South Park, Ali G and Borat keeping everyone in stitches. We squeezed two football games into the 12-hour gathering. Charlie Lennon spent time doing chalk pastels with Tandiwe, the paper mounted on the cutest little vintage red wooden easel gifted from Beth and John.
It was a fabulous gathering. We met AX's next-door neighbor who has lived in the building for over 50 years and helped carry bags of aromatic yummies for the octogenarian feast they'd prepared.
Somewhere around half-past twelve I said goodbye to the last of the guests and drug Charlie to the curb for his cab ride to Lower Nob Hill. As Charlie pissed against a lamp post, I watched the gathering storm clouds. I couldn't help think how truly blessed I am.
You be good.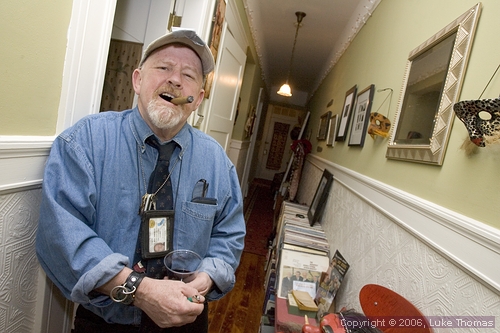 h. brown is a 62 year-old keeper of sfbulldog.com, an eclectic site featuring a half dozen City Hall denizens. h is a former sailor, firefighter, teacher, nightclub owner, and a hard-living satirical muckraker. Email h at h@ludd.net.

####
Editor's Note: Views expressed by columnists published on FogCityJournal.com are not necessarily the views or beliefs of Fog City Journal. Fog City Journal supports free speech in all its varied forms and provides a forum for a complete spectrum of viewpoints.