COURT JESTERINGS
With h brown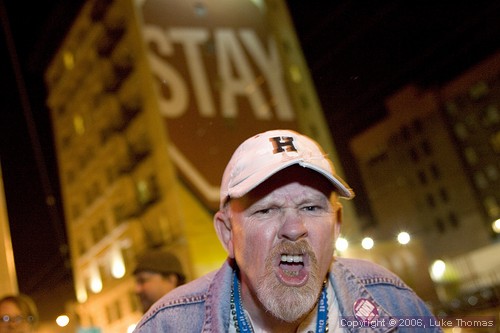 Photo(s) by Luke Thomas

Court Jester on Ragone, estrangement, Bobby Kapaone
January 30, 2007
Wade Crowfoot for Press Secretary
(then supervisor, mayor & president)
I'm not a non-violent person. Thus, I'm able to appreciate former mayoral spokesman, Peter Ragone's in-your-face type of Sacred Heart Academy style in dealing with the press. Hell, this is San Francisco and if a red-neck Catholic can't spread his wings here, where the hell can he? Please forgive me, Wade, but I recommend you (as do all of the thoughtful Hall press corps) as the new Press Secretary.
Crowfoot's a natural choice. He's a Peskin hire and anyone who thinks that Peskin can't pick talent, that person is a mother-fucking idiot. Enough said on that matter.
What's love got to do with it?
I fight with my friends all the time. Family? Estranged from virtually all of them. Michael Ege ignores me at public events. Warren Hellman gave a million dollars to stare at me from a foot away. This is all true.
Nobody does anything in this town without wondering what I'll think about it. That's true and not dumb at all. I'm the ville l'histoire … or, something like that.
Everyone rich knows that if they do something dumb, Ken Garcia will write what Warren Hellman and Dede Wilsey thinks about it within hours. A few hours later, Garcia will write what the POA thinks of an event. But, h. brown? I'll give the unvarnished truth and sometimes worse, I'll stop liking them for something awful they did.
People talk to me. One of the most amazing things I've noticed in 7 years of writing this column is that many people actually think that I'm making up the conversations I have with the politicians and staff who work City Hall and spend all of your billions. Not so at all! Oh no, I've broken bread and gotten drunk with most of the movers and shakers in this town and every single one of them is down to earth when they talk to me. If I tell you these assholes told me something, you can bank it that they did. And, in the rare occurrence that they do something good, … well, I'll try to not hide it too much.
So,why the hell did I go on that rant? Search me … Oh yeah, I've been drinking and smoking pot all day and reading and … going over notes … obituary for Bobby! Bobby was my friend and he died a couple of weeks ago.
Bobby Kapaone gets Ryan Chamberlain fired
Yeah, it was sometime between 3 and 4 in the morning in early December of the Gonzalez/Newsom mayoral campaign. That idiot, Charles Kalish had broadcast to his list of like ten million about how activists would come to San Francisco because the revolution was happening here and stuff like that …
And, the Newsom campaign had some loose cannons too, like Ryan Chamberlain. And, Chamberlain, he decides that he's gonna make the Kalish call to arms, come true.
He starts playing around online (as he does today, under the chat room handle 'Rebel without a Cause') … Ryan worked the internet with false messages about a horde of Greenies being bussed from out-of-state and how they'd be arriving in the middle of the night.
Then, he hires all these buses and invites the press to come and see them in front of the Gonzalez headquarters where, ostensibly, they were now gathering weapons and signs to hit the street in the morning. Long story short, one press crew shows up and they'd have just taken shots of the buses and broadcast the Chamerlain fantasy if it hadn't been for Bobby Kapaona.
Me and Bobby and a keg
There was a sign on the refrigerator at the headquarters that read something like: "Clean up after yourself. Your mother doesn't live here. Unless your mother is h. brown.".
Uh huh, said that, honest. I was the only permanent resident of the Gonzo for Mayor headquarters. It wasn't his idea, though he got used to it, but I saw it all. Most of the time, I make things happen, but for this month, I just watched. And, what a scene to watch.
The person who spent most of this time watching with me was Bobby Kapaona. Bobby was the one who woke me up the night that Chamberlain had the buses in front and we ran out to the news crew and told them it was a hoax and they realized it and apologized and left.
And, the buses left and I wrote about it but no one takes much of what I write seriously or I'd be dead and Bobby is now and that's his obituary and I'll see you soon enough, Bobby and so will everyone else who reads these words.
"Be happy, Chuckles!"
(from 'A Thousand Clowns')

h. brown is a 62 year-old keeper of sfbulldog.com, an eclectic site featuring a half dozen City Hall denizens. h is a former sailor, firefighter, teacher, nightclub owner, and a hard-living satirical muckraker. Email h at h@ludd.net.

####
Editor's Note: Views expressed by columnists published on FogCityJournal.com are not necessarily the views or beliefs of Fog City Journal. Fog City Journal supports free speech in all its varied forms and provides a forum for a complete spectrum of viewpoints.