COURT JESTERINGS
With h brown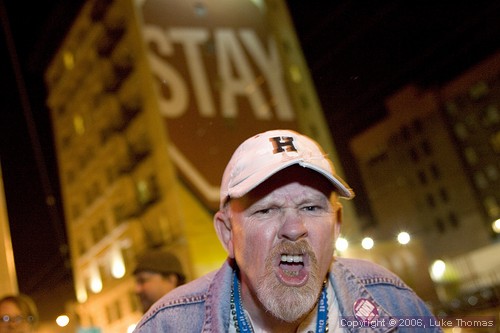 Photo(s) by Luke Thomas
Court Jester reviews Peskin flip-flops
March 7, 2007
"Peskin comes out strongly against youth fare cut!"
(Full Board today: 2:50pm)
"Peskin comes out strongly for youth fare cut!!"
(Full Board today: 3:10pm)
Does that mean that Aaron thinks that only 18-21 year old San Francisco youth should pay anything at all to ride Muni? The boy changes directions so fast that he's putting NFL scouts on notice.
Somewhere within that half hour or so, Aaron also showed us all a move we haven't seen before. Here're the headlines on that move:
Peskin changes zoning to allow cutting Parrots' nests!
(last year)
Peskin recuses self - parrots live 500 feet from his bedroom window!!
(today)
Why didn't Peskin mention that he lived within 500 feet of the trees when he was changing the zoning so that 4 of the original 6 Cypress trees could be cut down? Why did the guardian of the parrots have to risk his life in front of a chain saw to save the last 2 trees? Was it the noise?
Now, people of good conscience will tell you with a straight face that Aaron Peskin is pussy-whipped to the nth degree. That may or may not be, but I do watch the Board enough to know that Peskin's votes often change when there are noise considerations within hearing distance of his window. I'm told it's because of Nancy.
I do know that Aaron and Nancy shut down the venerable Savoy-Tivoli and damned near destroyed it because it was within 500 feet of their other bedroom window. Peskin used his power as a supe to do what Nancy wanted. All together now: Awwwwwww!
You all know me, and I'm not one to cause trouble, but I would suggest the following. Aaron, if you don't like the sounds of singing parrots and drunks, let me suggest you move out of town. Worst thing is, I know it can't be you. I've partied with you enough to know that you believe in equal oblivion for all. Get a trophy replacement while you still have the corner office. Explore your wild side. And, of course, no offense meant to you, Nancy. Wasn't there another Nancy? Yeah, what was Frank Jordan's wife's name? She was the one who told her husband to get in the shower with the shock dj's? She cost him Room 200. 18 more months, Aaron. Clearly, your legacy won't be for accomplishing any silly social or artistic goals. Think in terms of something like: 'The Aaron Peskin Red Light District'. I'm not kidding on this one. Why are there still whores in front of my door after 4,000 years?
Does my disappointment show? I'm developing a stew for the revolution. It comes from the old 'Must-Go' stew that is usually on the back-burner at most American firehouses. You know, you go into the refrigerator and say: "This must go." And then you say: "This must go." That's how you make 'Must Go' stew. You add what's in the fridge as the day goes on and it only goes into the fridge overnight and is back with more onions and carrots and … you know, by noon the next day and keeps on changing in character and ethnicity as cooks and leftovers accumulate.
My mom had her own version of it. It was kind of like the 'diggers' brewed in the Panhandle when I first came here in 1966. They had these 55 gallon barrels into which they added leftovers from bakeries and veggie stands and supermarkets and they kept this stew going.
My stew's a mix. I'm trying to see how cheaply I can feed folks a serving and how the taste of the stew changes as it goes from the turkey leftover that it was yesterday to today when there are strong soaked French bread remains and the leftover salsa and some pasta should push it another direction tomorrow.
Have I lost you? The Board's a bore, I'm saying. They aren't really responsive. They have no tax on the rich on the front or back burner. You can build a hundred story glass tower here and no one really gives a shit. Wanna buy our golf courses or harbors for nothing? Here, take em! And, it's Peskin's Board and he revels in their inaction and I'm pissed at him for it.
We have the only imprisoned journalist in the U.S. and not a single member of the Board acknowledges this during their Roll Call for introductions. Dufty presents a proposed resolution that would require the Board to go on record as opposing genocide in general. You know, philosophically opposed. But, of course that doesn't pertain to genocides that are actually underway if opposing them might cost Dick Blum a dime. On the other hand, the Board will respond in some cases. For instances, if the wife of the President of the Board doesn't like to hear birds or revelers, we get action. Action. Action?
Daly for Mayor.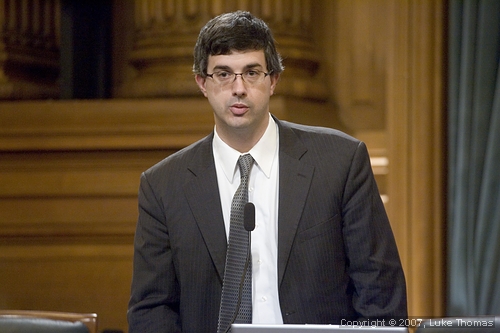 Supervisor Chris Daly

h. brown is a 62 year-old keeper of sfbulldog.com, an eclectic site featuring a half dozen City Hall denizens. h is a former sailor, firefighter, teacher, nightclub owner, and a hard-living satirical muckraker. Email h at h@ludd.net.

####
Editor's Note: Views expressed by columnists published on FogCityJournal.com are not necessarily the views or beliefs of Fog City Journal. Fog City Journal supports free speech in all its varied forms and provides a forum for a complete spectrum of viewpoints.