COURT JESTERINGS
With h brown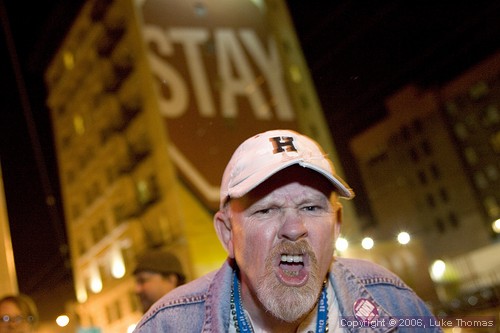 Photo(s) by Luke Thomas
Court Jester reviews Derse send-off
March 16, 2007
"You better save that speech. you're gonna need to give it again in a few weeks in New Hampshire."
(Jester to Nicole Derse)
Nicole Derse is the real deal. Not a devious bone in her body. Her enthusiasm and optimism are genuine. Honest, loving and generous? It's not often that someone with those kinds of handicaps succeeds in the world of politics.
She was just hired by the Barack Obama campaign and will blast off for New Hampshire on Monday where we all know she will wow Team Obama in short order. But first, the going-away party.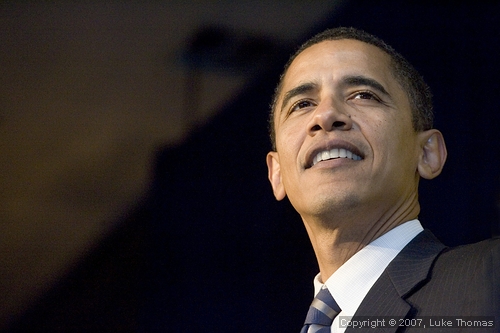 Barack Obama
And, the goodbye speech. That was the one I commented on in the lead here. She said a heartfelt, "Thank you all for everything and … " thing, but not one of the 100 people there believed they'd seen the last of her. That's why I told her that she'd soon be headed back to play a part in Senator Obama's California campaign. For 2 reasons.
First, and most obviously, yesterday the Governator signed legislation moving the California presidential primary from June, back to February 5th. That means that California will finally have its rightful impact in the primary season and a clever Obama staff should quickly move to have the alternative political culture maven, Derse on stage with him at Northern California events.
Second? Hmmm, got distracted there. See, first again. Yeah, uh … I can probably best communicate why this is important to the Obama campaign by describing last night's party for Nicole.
San Francisco Green Party
(the tail that wags alternative media dog)
I don't know how many votes Nicole Derse is worth in New Hampshire, but her connections to the local alternative media could make her worth a quarter of a million votes in San Francisco.
The most creative online sites call San Francisco home. They'll all be churning out tons of copy for this presidential race and Obama is going to need someone they trust as a specific contact to that sector. You send any of us communications from local machine big wigs and they'll go in the trash.
Mark my words, Eric Drooker designed posters should be plastered on billboards and bumper stickers from Bangor, Maine to San Diego. Luke Thomas photos should be the staple campaign offering to outlets from Time magazine to Rolling Stone. Both of these guys are the best in the world at what they do and they are both home ported in San Francisco and have supported lefty causes with their time and talent.
Promote the Gallery
For last night at least, 'The Space Gallery' (1141 Polk (377-3325) was a kind of vegetarian biker bar, if you know what I mean.
Yeah, only instead of a long row of Harleys lined up at the curb, there were dozens of bicycles chained to signs, utilities and each other along the gritty Tenderloin sidewalk.
It's a snug two story structure where the ancient glass door is framed with black, petal-like fingers that reach gently out over the smooth transparent entry behind which Tim Paulson, current head of the SF Labor Council shook his gray haired booty to a driving Hip Hop beat as SEIU's Robert Haaland laughed and applauded in from the sidelines.
The pattern from the discretely decorated front door, transitioned easily into the dark, wrought-iron rail of the small winding staircase where SFUsual Suspect's honcho, Alex Clemens held court on an impromptu stage at the right-hand twist in the simple yet elegant structure. I talked to Alex for awhile about duty and honor and the destiny of man and then, of course, about pussy. He allowed that, even though he did have a kind of yen for a specific lady at this point but that he wasn't going to mention her name because he knew I'd print it. He was right too. I'm terrible at keeping secrets.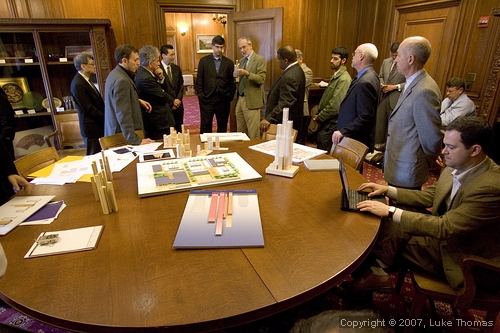 SFUsualSuspect Alex Clemens (far right) sits in on a meeting with Supervisor Chris Daly and downtown high-rise developers yesterday.
Matt Gonzalez and honey, Cat Raushuber, climbed the stairs past us slowly, careful not to spill their wine while Clemens and I sipped from my secreted flask of bourbon (no hard spirits on sale). I smiled and greeted Cat and grunted at Matt.
There were around 100 people, I'd guess. The downstairs maxed at around 30 and there were a dozen or so at various points on the overlooking stairs and room for 40 or so upstairs which has a second bar, bit smaller than the one downstairs. This is a savvy crowd and bottlenecks quickly dissolved as the overage trickled onto the sidewalks after leaving their drinks inside. By midnight there were more people on the sidewalk then there were indoors; all smoking pot madly and whispering about Nicole and Obama and Danny Glover and the aforementioned Gonzo.
David Campos continued his quest of trying to convince me that he's not a downtown rubber-stamp as Miguel Bustos, Mark Sanchez and Krissy Keefer looked on. I mused to Alix Rosenthal and Charles Kalish who were listening that one of these 4 would probably succeed Ammiano in district 9. Three gay men and a bi woman. I like the idea of keeping that an LGBT seat. I challenged Campos.
"Call for steroid tests for cops!"
They're the only emergency service that doesn't have random drug testing and the one where the aggression brought on by abuse of steroids has the most impact.
He agreed. Let's see if he keeps his word. Hell, I may even make a personal appearance at next Wednesday's meeting of the Police Commission to push the matter myself.
Ted Strawser stood tall in the night
Sidewalk, outside. I introduced Matt Dorsey and Donna Linden to the Gothic-like shadow of Daniel Patrick Murphy who just returned from a year or so helping in New Orleans. I bullshitted with Paul Hogarth from Randy Shaw's, Beyond Chron, Fog City chief, Luke Thomas, Fog City I-Team investigative reporter Daniela Kirshenbaum, and Marc Saloman. Joe Lynn talked Green Party politics with Susan King and Sue Vaughan. Lovey dovey, parents-to-be, Erika McDonald and John Marc Chardonia glowed. Seth Walker was there with Andy Blue and they both brought their lovely ladies whose names I clean forgot. Ace New York Times bureau chief Evelyn Nieves and Mirkarimi significant other radiated grace and charm while discussing possible Fog CIty contribution possibilities.
Message to Obama
Barack, these people were all there because of Nicole Derse. She can do great work for you in New Hampshire, I'm certain but there ain't no one around these parts who can bring together this vital new age media army the way she did last night. Remember that as you and your senior staff watch her work in New Hampshire. She's way to modest to toot her own horn, but dude, when you look at Nicole, you're looking at the gatekeeper to a quarter million votes and a treasure trove of political media and art.
Note: Ross Mirkarimi was there too and FCJ publisher, Luke Thomas talked to them both about the mayor's race. It's lead piece of FCJ as we speak.
My feelings at the moment?
Danny Glover for mayor.

h. brown is a 62 year-old keeper of sfbulldog.com, an eclectic site featuring a half dozen City Hall denizens. h is a former sailor, firefighter, teacher, nightclub owner, and a hard-living satirical muckraker. Email h at h@ludd.net.

####
Editor's Note: Views expressed by columnists published on FogCityJournal.com are not necessarily the views or beliefs of Fog City Journal. Fog City Journal supports free speech in all its varied forms and provides a forum for a complete spectrum of viewpoints.