COURT JESTERINGS
With h brown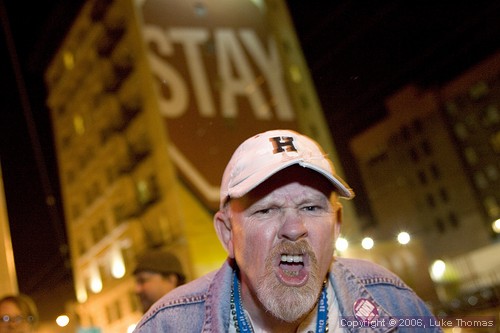 Photo(s) by Luke Thomas
Court Jester clarification and apology
March 31, 2007
Boys and girls, Warren and Matthew,
I made a serious error a couple of columns back when I chastised financier Warren Hellman for offering a 'bribe' to SF Weekly's lead columnist, Matt Smith. The completely incorrect comments drew this response:
Dear Valued Reader,
Hellman? Money? What are you talking about. I've never spoken with the man. I certianly didn't write a column saying he'd offered me money. I'd appreciiate a published clarification aknowledging your mistake. It's defamatory to claim I'd blithley entertained an offer of money from a public figure such as Hellman.
Kindly,
Matt
Ouch!, Ouch and double-ouch!!
I was relying upon my memory and I got the players wrong. I hit the Google button a few times and it replied that what I was recalling was a meeting between you and Louise Renne, the President of the SF Police commission during which she tried to bribe you. So, it was not Hellman at all. Hellman was the one you challenged to a bicycle race for some benefit or other. Anyway, here is the text I was recalling and Hellman was nowhere to be found (sorry again, Warren).
This is from the SF Weekly, December 22, 2004 from a Smith piece entitled:
The High Life
"The problem was that I couldn't figure out the purpose of the meeting. ... she finally cut to the chase.
Renne wanted to pay me to be a part-time investigator on her insurance-broker lawsuit, apparently to benefit from knowledge I'd gained while looking into the situation as a journalist.
Had I accepted her offer, I would have been taking money from a public figure active in the very areas that I routinely cover. In the journalistic world, this is a fairly obvious no-no, a case of accepting a financial benefit from a source and, potentially, a public figure I might have reason to write about.
Such a conflict of interest would have undermined much of my coverage of San Francisco."
I apologize for the error and accept full responsibility. On a side note though, I did write a few years back that I thought that while erratic, SF's Smith was the most likely writer in town to win a Pulitzer prize. I'll hedge that prediction now with the caveat that first, he needs to get a spell-checker.
I've info'd my blast list and FCJ where I am an occasional contributor. This matches the original distribution list.
Mea culpa again,
h. brown
h. brown is a 62 year-old keeper of sfbulldog.com, an eclectic site featuring a half dozen City Hall denizens. h is a former sailor, firefighter, teacher, nightclub owner, and a hard-living satirical muckraker. Email h at h@ludd.net.

####
Editor's Note: Views expressed by columnists published on FogCityJournal.com are not necessarily the views or beliefs of Fog City Journal. Fog City Journal supports free speech in all its varied forms and provides a forum for a complete spectrum of viewpoints.