COURT JESTERINGS
With h brown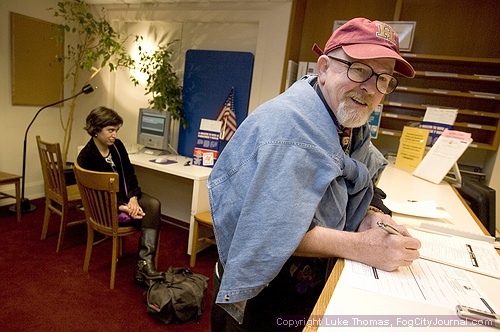 San Francisco mayoral candidate, h. "Court Jester" Brown.
Photo(s) by Luke Thomas
"Want some mayonnaise with your Summer malaise?"
(Eileen)
By h. brown
June 30, 2007
Daly returned a phone call yesterday morning. From Atlanta, Georgia. He sounded happy. That's good. I'd phoned to tell him that since he has nothing else to do (no committee assignments) … that he should be able to make Salon.
He told me yet again that he wouldn't run for Mayor, but I'm not buying it. That's part of my charm. And, my disease. Yeah, addicted to local politics for 10 years or so now:
h.: "Hello, my name is h. brown and I'm addicted to SF politics."
Group: "Hello h."
You can understand. You have some stage of the disease, or you wouldn't be reading this. And, it's been slow lately. The worst thing that can happen in any political season is for there to be no competition. That means that consultants and printers and mailers and on and on don't get work. Warren Hinckle will lose money on the Argonaut, and Frontlines will be left with Ahimsa Sumchai-Porter and I as candidates.
I hear rumors that Gonzalez isn't getting the financial responses he needs to run a credible race this Fall. Hall's natural allies are satisfied with Newsom. Mirkarimi may have peaked on the 'Peter Principle' scale, and Marc Salomon took a job til after the filing deadline.
So, I still see the Progressive's strongest ticket as Gonzo, Daly and Mirk locked arm-in-arm. Think of me as your 'fall-back' candidate. Or, perhaps, as your 'bomb-shelter-last-port-in-a-storm' choice.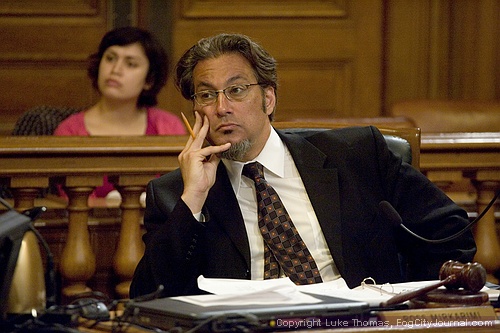 Time keeps on ticking, ticking, ticking... into the future...
I really don't think Gonzalez is going to enter the race. I think he's finished, and he knows it, but he enjoys the attention so he's keeping up the pose. It's not fair to his supporters or their cause, but like Nader and Camejo, ego overrules responsibility.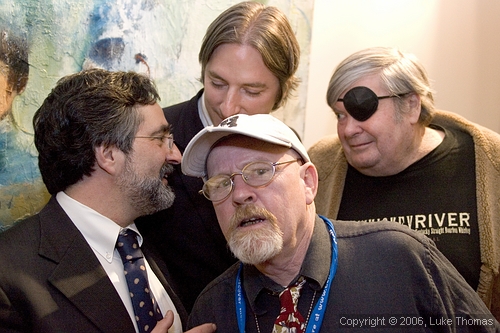 Blast from the past: h brown with nemesi Aaron Peskin, Matty G
and Warren "Redbeard" Hinckle.
Daly has taken a horrific beating with no support from anyone save Fog City, Marc Salomon and myself in the 'constant-publishers' category. Still, youth has a way of rebounding and he remains my top choice for Mayor.
I've watched Mirkarimi for 8 years and have a hard time pinning that 4th star on his collar. Adachi would be a marvelous candidate but, as he showed during his meticulous presentation of the budget of the Public Defender's Office (which he writes himself!) that he really wants to stay put for now.
Hey, I chased movie stars for you and tried to get the Sheriff to step down and take a run at it. None of that panned out. Lefty pundits have announced, but I put the candidacies of Chicken John and Diamond Dave in a category with myself with no offense meant to them. So, the question arises in all it's punnability:
Who's Left?
Grow a set, Matt.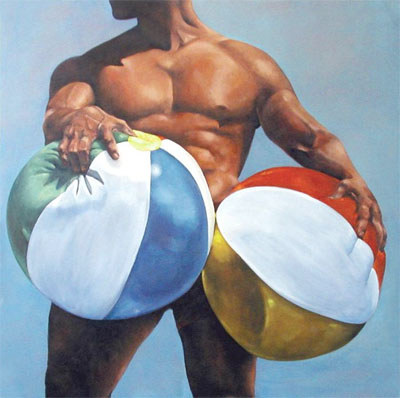 Big Balls
Alisa Doane
Ignore bankruptcy.
See you on stage.
h. brown is a 62 year-old keeper of sfbulldog.com, an eclectic site featuring a half dozen City Hall denizens. h is a former sailor, firefighter, teacher, nightclub owner, and a hard-living satirical muckraker. Email h at h@ludd.net.

####
Editor's Note: Views expressed by columnists published on FogCityJournal.com are not necessarily the views or beliefs of Fog City Journal. Fog City Journal supports free speech in all its varied forms and provides a forum for a complete spectrum of viewpoints.