COURT JESTERINGS
With h brown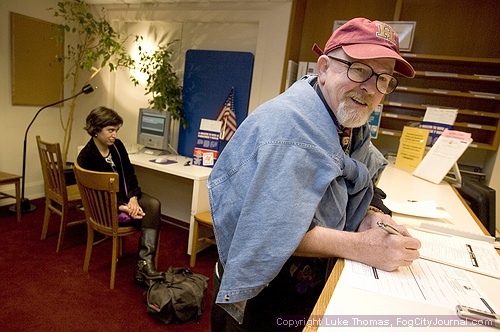 San Francisco mayoral candidate, h. "Court Jester" Brown.
Photo(s) by Luke Thomas
Court Jester invites San Francisco
to the 2nd Mayoral Candidates Debate
By h. brown
August 21, 2007
The collaborative is alive and well and kicking after our inaugural face-off. This week Josh Wolf is in charge of the stage and my job is build the audience.
"My goal Friday was to out-dress
Tony Hall. I came home that night
and I sat down and I cried because
it was the best time of my life."
(Candidate Billy Bob Whitmer)
I swear to God, some of these candidates will just tear your heart out. Ahimsa Sumchai is getting credit for her decades of work on environmental justice in the Bay View. Tony Hall is probably the second most screwed over political figure in town. After Chris Daly.
Welcome to Next generation of Aliotos and Browns
This political shit really is secondary to the birth of grandchildren. I only have 3 and they were all born in San Francisco within the last 5 years. It's an in-your-face to native borns who think they are better than those of us not born here. Wait, I'm getting political.
Damian Ryder Brown
(D. R. Brown - I'm gonna call him 'doc')
Born last Wednesday (8-15-07) at Kaiser. Mom is Veronica and pop is my son, Alex. He joins cousins, Tandiwe and Wesley Nyandoro, offspring of my favorite daughter, Mona (OK, she's my only daughter, but I'm sure if I had more, she'd be my favorite) who was born in St. Louis in a convent and son-in-law, Kudzai Nyandoro of Zimbabwe.
The San Francisco branch is a new field for the Browns who stretch from Boston to L.A. with various stops in between. It will take us 150 years of hot sex to catch the Aliotos in numbers here but we expect to catch and pass the Fishers within a decade.
Antonio Alioto-Veronese
"It's 'Antonio', h.. 'Alfredo' is something you put on pasta."
(proud new uncle, Joe Alioto-Veronese)
So, the Veronese branch of the Alioto clan grows. You follow your family clan branches over the years? Little Antonio can just toddle around the family homes from SF to Rome and all of the surrounding territories of same and look at the fine oil paintings of famous relatives.
Little Damian (from 'Damiano', the saint of doctors to the poor who - Angela tells me - was the guy who recruited our patron saint, Francis of Assisi) … Damian's ancestors range from Mark Twain to Cole Younger out of the Missour/Illinois valley to which they all fled from Ireland a couple of hundred years back.
I got Antonio's name wrong in my first announcement of his birth. Got Damian's wrong too. I guess I could use a fact-checker but I so hate editors. Suffice to say that the kids are kicking and looking around for offices to run for.
Come to Town Square Friday at 5 p.m.
(Alioto Plaza - under Mayor's balcony)
Bring something to sit on and Media Security Manager, Eric Steinberg promised that wine and cheese would be appropriate for those of you who take in the weekly 1 ½ hour show in front of City Hall. The grass is lush and you can be a part of history if Newsom actually grows balls and walks across to debate us. I pushed Newsom handler, Eric Jaye on the spot yesterday when Fog City Guru, Luke Thomas and I encountered him as we left da Hall.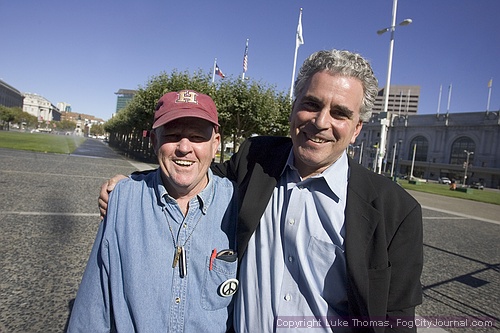 Newsom Campaign Maestro Eric "Old Blue Eyes" Jaye
with h. Brown Campaign Maestro h. "Old Green Eyes" Brown.
"I still have to do a benefit for you!"
(Jaye tries to buy time)
I'd just finished resigning from the Green Party at the Department of Elections and Luke had gone along to record the event. Along the way, we'd encountered my neighbor, and inveterate public-commentor/singer, Walter Paulson joined us and we were all headed back to our individual digs a couple of blocks from the Dome.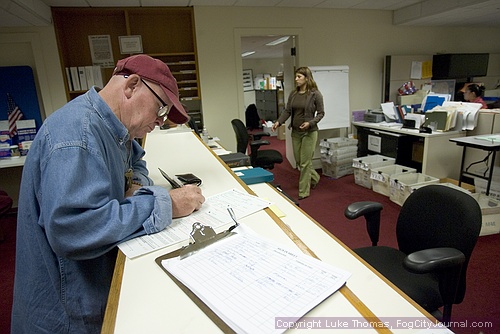 Brown formally gives the Green Party the boot after being insulted by Jim Dorenkott during Brown's presentation for the Green Party endorsement. Dorenkott called Brown a "moocher" and then vehemently denied it after Marc Salomon apologized on behalf of the Green Party for Dorenkott's opportunistic attack. As one Green Party member said following the insult, "The irony of Dorenkott's insult escaped no one."
Jaye is a good looking guy which I'd surmised from his photos, but he's better looking in person. Kind of an overweight version of a sawed-off Ray Liotta with those pretty girlish eyes. He was nice enough to pose for a photo and I asked him if the Mayor would join us this Friday.
I've never insulted Newsom in public and in person. I wouldn't do that. In writing is another thing, but that's a different matter isn't it? Likewise with Jaye. He reiterated his feeling that an organization made up of 11 of his 13 opponents wasn't a real organization that the Mayor should meet in debate. Kind of like the Board of Supervisors and their 'Question Time'.
Mayor should overrule Jaye and debate us
Again, I call for Gavin to be his own man in this matter. Hell, it's not like I'm asking him to oppose an order from Walter Shorenstein. Gavin is well prepared to debate and he should do so. It is only right and the people of San Francisco said so last year at the ballot box.
This Friday at 5pm for Mayoral debate
Anyone know Michael Powers? He's one of 2 mayoral candidates who failed to show for last Friday's event. I phoned to ask him why he didn't show.
Bulldog: "Why didn't you come to the debate?"
Powers: "I have a campaign manager and he said I shouldn't go."
Bulldog: "Why?"
Powers: "I don't think that campaigns should be collaborative."
Bulldog: "Do you intend to mount any kind of campaign?"
Powers: "Absolutely."
The guy was not friendly at all. All I know about him is that he runs the Power Exchange sex club at Mission and Otis. I'm told that it costs $40 for admission for males but that females and drag queens get in free. Four stories of sweaty sex.
Why's a guy like this entering the race for Mayor? I gotta guess that like George Davis and Chicken John, he's there to marginalize serious candidates such as Ahimsa Sumchai and myself. If you're looking at exploding cars and sex clubs and a guy running around naked, you aren't likely to take much notice of serious issues being addressed on stage.
Wilma Pang's a plant too. She and Davis admit that they're backing Newsom but running anyway. She told the Green Party Saturday that she was running because Richard Ow and others had come to her and told her that she had to hold the Chinese vote for the Mayor.
How many real candidates?
Pang and Davis have endorsed the Mayor. Chicken John says he'll have nothing bad to say about Gavin. Lonnie Holmes supports the Redevelopment Agency's rape of the Hunters Point Ship Yard which puts him directly at odds with the only other black candidate (Ahimsa). Quentin Mecke is a surrogate for Matt Gonzalez.
Powers, as mentioned, is scary-creepy considering his ties to notorious permit-fixer Jimmy Jinn who has a kind of 'Ben Quick' reputation, if you know what I mean.
Tony Hall thinks that Harold Hoogasian is only in the race to take votes and fundraising avenues away from him. They certainly hate one another. Let me say that I like Hall but not his politics. However, if Hall gets to 30% in a poll somewhere, he's getting my full support. He'd certainly be a damned site better than Newsom. Back when Gonzalez was a legislator, he and Hall passed ballot measures forcing the Mayor to share power on agencies ranging from the Department of Elections to the Planning Commission and Board of Appeals. Hall is a genuine reformer.
Who's left?
Hall's real. I'm real. Sumchai is real. Josh Wolf is real. Billy Bob is sincere. I'll need a roadmap to figure out Grasshopper Kaplan. I'm voting for myself first, Ahimsa second and Josh third. The rest are going to have to prove to me that they aren't just puppets on the end of strings controlled by people I do not like. Bottom line?
That's easy:
Come to Friday's debate
I'd make the best mayor in the history of San Francisco. That's the truth. It is literally, a miracle that I'm even on the ballot. Because I am hated across the political spectrum from the Greens to the Republicans and Democrats to the Libertarians to every Uncle Tom and Juan and Lee in town.
I have nearly 50 years of experience working in every phase of public service from fighting fires to reforming delinquents to tearing up and repaving streets and sidewalks. You just don't get that walking around in a $2,000 silk suit and a designer hard hat.
The City is in bad shape physically because the people who control the present mayor are not interested in potholes or the murder rate. They are interested in making every dollar possible building high-end housing and privatizing every valuable piece of public property.
The Mayor started his administration quoting someone who said that you were stupid if you kept doing the same thing over and over and expected different results. Then, he did just that.
Larry Badiner still runs the Planning Department as an adjunct to rich developers. Mohammed Nuru makes certain potholes aren't filled so that big contracts can be given to connected outside contractors to pave entire blocks at a time.
Mitch Katz is still mismanaging the Department of Health and causing untold misery. Amos Brown and the Housing Authority are still boarding up hundreds of perfectly good apartments so that they can be torn down and replaced by housing for the rich.
The Police and Fire Departments have gone downhill. Whatever the Department of Emergency Services does is a secret now that they've added: 'and Homeland Security' to their name.
Park and Rec exists only to identify properties the rich want to seize. The Redevelopment Agency continues to plan glass skyscrapers of up to a thousand feet and beyond. Smack in the middle of an earthquake zone.
I promise to fire your boss!
And, their PR staff. I also promise to hire veteran City workers to replace them. I'm talking about going all the way down to the level of guys now digging ditches to run DPW and to working online shrinks to run the Health Department. No political hacks.
I wouldn't hesitate to promote sergeants or patrol officers to command positions within the SFPD. The Fire Chief is history the first day I take office and my chief will live in the chief's house.
Come to Friday's debate
(bring a neighbor and a sign)
One thing missing from our first debate was campaign signs for the individual candidates. While I have no actual campaign, a couple of supporters have promised to have at least one 'h. brown for Mayor' sign in the crowd. All other candidates should do the same or much better.
There are only 78 days til election, folks. Help us convince Newsom that he should face his opposition under his window. It is unseemly for the Mayor of such a great City to sneak out a basement door every Friday afternoon. You tell him so with your presence.
Missing from the crowd:
Matt Gonzalez
Ross Mirkarimi (OK, he had a party going)
Chris Daly
Every other supervisor
Every other elected official
The SF Examiner
The SF Weekly
Present in the crowd:
The San Francisco Chronicle with an open mind (I'm gonna faint)
TV channels 2, 3, 4, 5, 7 and 14
Fog City Journal
The Bay Guardian
Indy News
Bay City News
An alphabet of letters of radio stations
At least 2 dozen online bloggers
Attend this Friday
For the children.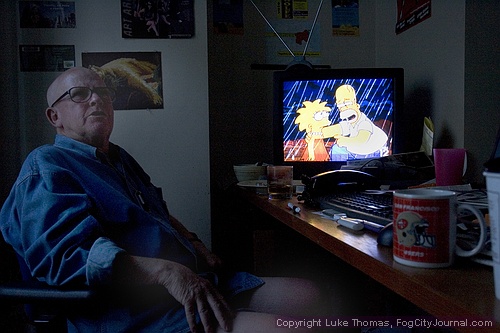 h. brown is a 62 year-old keeper of sfbulldog.com, an eclectic site featuring a half dozen City Hall denizens. h is a former sailor, firefighter, teacher, nightclub owner, and a hard-living satirical muckraker. Email h at h@ludd.net.

####
Editor's Note: Views expressed by columnists published on FogCityJournal.com are not necessarily the views or beliefs of Fog City Journal. Fog City Journal supports free speech in all its varied forms and provides a forum for a complete spectrum of viewpoints.