COMMUNITY POLICING MEETING SCUTTLED

Police chief won't accept advocate group guidelines
Top officials agree to guidelines without Newsom knowledge
December 6, 2005, 10:15 p.m.
By Pat Murphy and Luke Thomas
Copyright fogcityjournal.com 2005
Two senior city officials approved an agreement on community policing without Mayor Newsom's knowledge and without Police Chief Heather Fong's acceptance, the Sentinel learned tonight.
City Chief-of-Staff Steve Kawa and Deputy Chief-of-Staff Alex Tourk approved guidelines drawn by the African American Community Board (AACB), without Newsom's knowledge or consent, mayor's press secretary Peter Ragone confirmed late tonight.
The AACB is a 13-member body established in 1995 representing African American organizations, non-profits, and communities of faith. One seat is held by the mayor's office, and a second seat is held by the mayor's Office of Criminal Justice.
When Fong was presented with the agreement today she refused acceptance.
"They underestimated Heather Fong," observed a city official outside of the Mayor's office.
The agreement called for selection of district police lieutenants to be placed in the hands of community policing director Con Johnson, a San Francisco police lieutenant.
Fong would not accept lieutenant selection being removed from district police captain authority, several sources told the Sentinel.
Her refusal resulted in the AACB requesting Ella Hill Hutch Center management cancel a joint workshop between District 5 Supervisor Ross Mirkarimi and Mayor Newsom.
Hutch Center director George Smith agreed to the cancellation request, frustrating members of the public who arrived for the publicized gathering.
Mirkarimi prevailed on Smith to reopen the meeting, with some 60 remaining.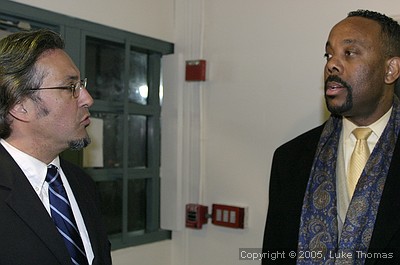 Ross Mirkarimi and George Smith
Photo(s) by Luke Thomas
The District 5 supervisor spoke to the press prior to reopening the session, with barely restrained criticism of the mayor's office as rumors floated, with details slowly forming clarity on why the initial meeting was closed.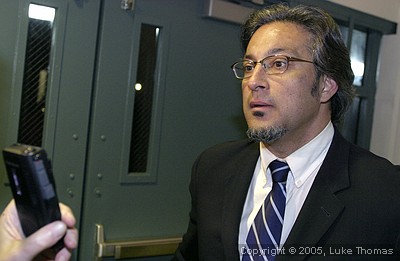 On learning the meeting had reopened, Dwayne Jones and Pastor Amos Brown arrived 30 minutes later. Jones serves as director of the mayor's Office of Community Development. Brown is a former San Francisco supervisor and political supporter of Mayor Newsom.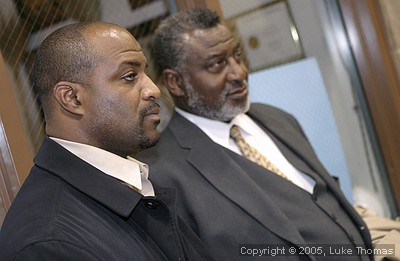 Dwayne Jones (left)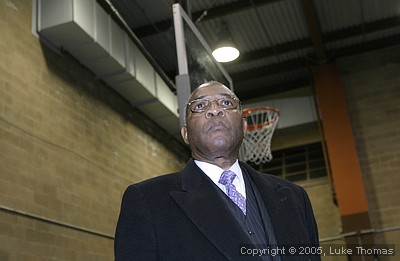 Amos Brown
With most people still not clear on what had happened or why, everyone involved stressed desire for continued mutual respect with hope of bringing community policing to reality.
Details follow tomorrow.
####