Daly surges ahead 20% in neutral phone sweep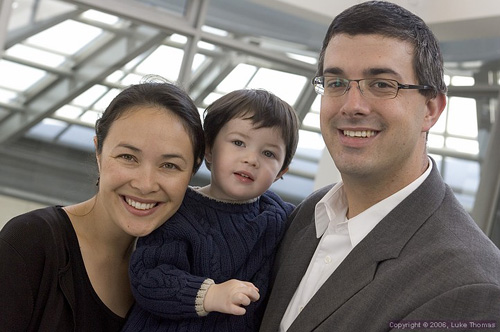 District 6 Supervisor Chris Daly and family.
Photo(s) by Luke Thomas
October 31, 2006
SAN FRANCISCO - With less than a week to go until Election Day, Supervisor Chris Daly appears to have the lead in the District 6 supervisor's race. A phone sweep of District 6 voters that identified the preferences of 2,190 residents indicated 1,326 (60.5%) favored re-electing Daly, with 864 (39.5%) opposed. Another 809 indicated they were undecided.
All voters whose preferences had not already been identified were included in the sweep.
The data also indicated it is very difficult to connect with District 6 voters via telephone, with more than 50% declining to respond to callers. The calls were all completed on the evening of Monday, October 30 by Zata3, a Washington, DC based calling firm.
"I am pleased that fully 60% of decided voters are supporting my re-election.," said Supervisor Daly. "Voters who learn the truth about my record of results are joining our winning campaign."
Supervisor Daly also stands to benefit from the support of practically every major member-based organization in San Francisco. Supervisor Daly has been endorsed by the San Francisco Democratic Party, San Francisco Green Party, San Francisco Tenants Union, San Francisco Bicycle Coalition, San Francisco Labor Council, Sierra Club, League of Conservation Voters, San Francisco Women's Political Committee and countless Democratic clubs. These groups will help fuel an aggressive Get-out-the-Vote operation that will deliver Daly supporters to the polls.
"The only poll that counts is the one on Election Day," Supervisor Daly cautioned. "We may be ahead, but there is still much work left to do."

####