City department head called to military service in Iraq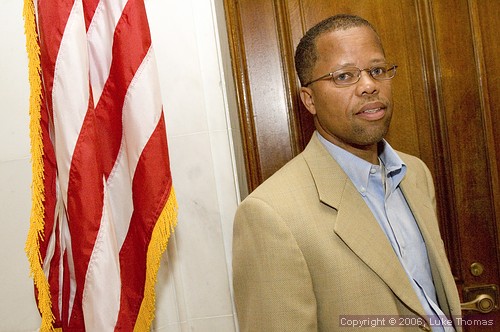 Darryl Burton stands with American flag posted outside City Hall Office of the Mayor.
Photo(s) by Luke Thomas
Copyright fogcityjournal.com 2006
July 29, 2006
Darryl Burton made the rounds of San Francisco City Hall yesterday pressing flesh with colleagues as his departure for military service in Iraq draws near.
Burton went on military leave of absence as director of the Department of Administrative Services shortly after receiving his July 12 notification of reservist call-up.
Actual departure date is kept secreted, "but my emotions are moving as departure time gets closer," Burton told the Sentinel.
A resident of San Francisco since 1989, Burton headed Administrative Services for three years.
Burton will be stationed first in Baghdad, and then move throughout the theatre administering a MASH (mobile auxiliary surgical hospital) unit.
The father of three children, Burton will serve as chief of staff of the 399th Combat Support Hospital. His wife Wendy and children aged four-years-old through 16-years-old remain in San Francisco.
He expressed gratitude to department workers and managers.
"I just want to thank the employees of the City and County of San Francisco, in particular my employees that worked for me in the Department of Administrative Services and the managers for all the support that they provided me during my three years," stated Burton.
"I also want to thank the mayor for his support and leadership, and members of the Board (of Supervisors) in what they are trying to do on behalf of the City and County of San Francisco," Burton added.
His military mailing address is as yet unknown.
####