SFPD LOSING RESPECT
FOR FONG LEADERSHIP
Delagnes stops short of calling
for Chief's resignation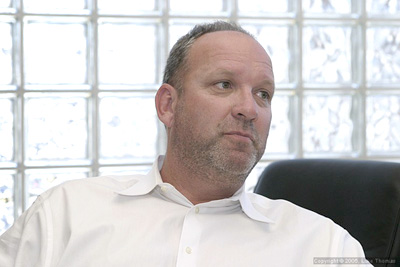 Photo(s) by Luke Thomas

By Pat Murphy and Luke Thomas
Copyright fogcityjournal.com 2005
December 30, 2005
San Francisco police officers feel adrift without got-your-back support from Police Chief Heather Fong, according to Police Officers Association President Gary Delagnes.
Officers also feel the same lack of support from city administrators and officials, Delagnes told the Sentinel this morning.
"In a city like San Francisco my belief is the chief must be assertive and aggressive on certain issues with the chief watching their back," stated Delagnes.
"Officers don't feel like they're getting that kind of backing.
"They feel like they're out there floating without knowing what to do or where to go," added Delagnes.
He noted Fong's broad popularity among San Franciscans.
"She's very popular with the residents of San Francisco."
A vote of no-confidence by the POA would be inappropriate at this time, Delagnes cautioned.
"I don't think that's the right approach right now," he explained.
Delagnes made his remarks with the backdrop of several major issues facing the police department.
Lack of trust between residents and officers; disillusionment that more police officers are not walking beats despite a general order to do so, perceived insubordination by officers to Fong's directives, several officers under investigation in the Videogate scandal, climbing homicide rates, and a resistance towards merging social and police services toward community policing.
Reached by phone for comment, SFPD spokesperson Sergeant Neville Gittens told the Sentinel, "the chief's main priorities are to make sure streets are safe for the public and fighting for resources for the officers of this department."
####