Disabled seniors resort to bake sale for support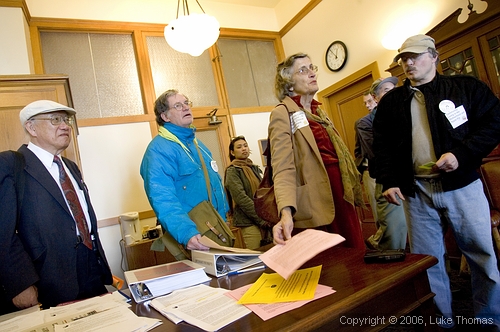 Seniors contingent brings bake sale to office of Supervisor Jake McGoldrick
including, from left, Dong Kim, Mel Beetle, and Vera Hail.
Photo(s) by Luke Thomas
February 22, 2006
Disabled senior citizens hawked homemade cookies and a great big apple pie outside City Hall today to cast their City support a piteous pittance.
They plan to deliver the few dollar bills raised to the Finance Committee at its next meeting as incentive for increase homed care funding.
"We're having a bake sale because we're trying to generate money that we haven't been able to get for seniors and people who are disabled," Merrill Roberts explained to Supervisor Jake McGoldrick.
Merrill, who serves as information director of the Independent Living Resource Center of San Francisco, led an entourage to Finance Committee member offices.
"The Health Commission approved setting up a Community Living Fund but they didn't approve putting any money in it," related Vera Hail.
"We we're hoping the Supervisors will find a way to put money into it."
She estimated funding request at $1.2 million.
"So what would this money buy?" McGoldrick asked.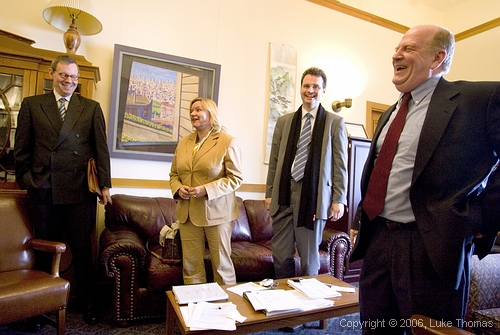 McGoldrick interrupts meeting with German Consul General Rolf E. Schutte, left, and German Bundestag members Gisela Piltz and Gunter Kring
to meet with senior advocates.
"Well it would help people to get into housing that's accessible for them, the first and last month rent, and the security deposit, and for extra in-home support services for people who can't get enough (service) hours," Hail said.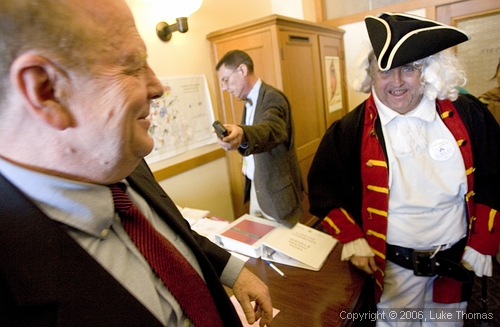 ####