Horowitz testifies in trial of wife's alleged killer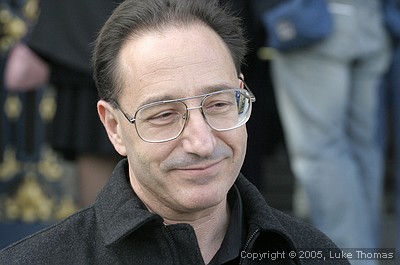 Daniel Horowitz, husband to his slain wife, Pamela Vitale, 52,
testified today in the murder trial of Scott Dyleski, 17.
File photo.
Photo(s) by Luke Thomas
By Caitilin McAdoo, Bay City News Service
August 1, 2006
MARTINEZ (BCN) - Testifying this morning in Contra Costa County Superior Court in the trial of the teenager accused of murdering his wife, Daniel Horowitz described finding Pamela Vitale's lifeless, bludgeoned body on the evening of Oct. 15, 2005.
Scott Dyleski, 17, is accused of murdering 52-year-old Vitale in the rural Lafayette home she shared with her husband after he went to the home as part of a plot to buy marijuana-growing equipment using stolen credit card information.
Horowitz, a well-known legal commentator and defense attorney, said he got up that morning, ate a bowl of oatmeal and drank a cup of coffee.
He then tended to the dogs, checked his e-mail and left to go to a meeting while his wife slept.
Horowitz spent the day working on the Susan Polk case, which was in trial at the time. He then ran errands and returned home in the early evening.
When he got home, his wife's car was still parked in front of the doublewide trailer the couple was living in while they built their dream home. Horowitz said that the car wasn't supposed to be there because Vitale had planned to go to the ballet in Berkeley with a friend and they should have left already.
When he got to the door, he found smears of what looked like blood on the front door.
"I just knew it wasn't good," he said. He said his body was moving faster than his brain as he grabbed the doorknob and went inside.
"It was just a scene of blood and Pamela lying there," Horowitz said. He said that for a second it looked like a crime scene photograph, but then he knew it was real. "There was so much blood," he said.
He said he yelled and dropped everything and rushed over to his wife.
"Oh no, Pamela, I love you," he said he screamed. During testimony Monday, neighbors said they had heard his screams echoing down Hunsaker Canyon Road and that he had sounded like "a wounded animal."
Horowitz said that he knew Vitale was dead because she looked "waxy," but he went over to her anyway and touched her neck to see if he could find a pulse.
He said he then forced himself to get up and call 911. He went back to his wife one more time, touched her neck again, then went outside to wait for the police, still screaming.
During cross-examination, Deputy Public Defender Ellen Leonida asked Horowitz if anything had been taken from the home. Horowitz said that he thought a pair of jeans had been taken, but he wasn't sure.
He said he did not know that any credit card or bank account information had been taken.
In her opening statement, Leonida argued that the plot to steal credit card information had been foiled before the murder and that Dyleski had no motive to kill. He is a kind, gentle teenager who cares deeply about animal and human rights, Leonida said.
Leonida also asked Horowitz if there were any tenants living on the property.
According to attorney and legal commentator Michael Cardoza, Leonida may have been suggesting that somebody other than Dyleski could have killed Vitale, but in his opinion, she did not go far enough in her questioning.
"She showed no emotion," Cardoza said. "She's not showing the jury that she believes in her client's innocence. ... [Prosecutor] Hal Jewett is going to steamroll her in this case," Cardoza said.
Copyright © 2006 by Bay City News, Inc. -- Republication, Rebroadcast or any other Reuse without the express written consent of Bay City News, Inc. is prohibited.
####