Daly takes five rounds to finish off Black
Ed Jew comes from behind for stirring victory

District 4 Supervisor-elect Ed Jew is congratulated by Supervisor re-elect Chris Daly outside the Department of Elections this afternoon.
Photo(s) by Adam Aufdencamp
November 10, 2006, 4:30 p.m.
As luck would have it, Adam Aufdencamp (Fog City photographer) and I were walking past City Hall at just before 4pm. "Hey, they should be announcing final numbers on the supes' race about now," Adam said.
"Hell, lets go in and cover it," I responded.
Shit luck. No organization. No plans. There were crew trucks all over the place from all the TV stations and newspapers. Of course, just back from Salon and a bit tipsy (I was, anyway) ... we go down the wrong stairs to go to the Department of Elections and run into, then to be, Supervisor-Elect Ed Jew coming down the same back stairs with campaign consultant extraordinaire, Doug Comstock. I shook hands with both and assured Ed he was going to win (I had no clue - I'd bet on Dudum) and introduced them to Adam who's part of the growing FCJ family.
We reached the semi-circle of major media cameras and scribes outside the door of the DOE just as Director John Arntz was coming out the door with the results. A hundred hands reached anxiously for the results and I watched Jew just in case. The first person to scan the 4-page document yelled out:
Jew wins!!!
Supervisor Jew turned to me and fell into my arms. You can't beat that for timing. The cameras whirred away. We parted, better men for the hug.
Winning percentage: 52.120%
Daly wins!!!
Winning percentage: 50.221%
I ran upstairs to see if Daly had the word. Luck stayed with me. Barreling down the hall toward me and headed for the stairs was the newly re-elected Daly himself flanked by Consultant Bill Barnes, Aide Andy Blue, Adviser Nicole Derse and 5 or 6 others. I called out congratulations as Chris hit the elevator.
God damned, that was an exciting race.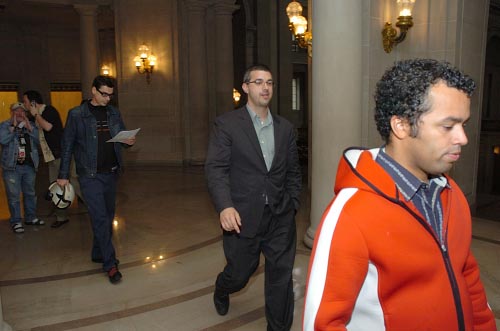 Daly entourage led by Bill Barnes, followed by Supervisor re-elect Chris Daly, Boris Delepine and Alex Clemens giving "cousin" h. Brown an unrestrained celebratory kiss
on the sacred 'h' cap.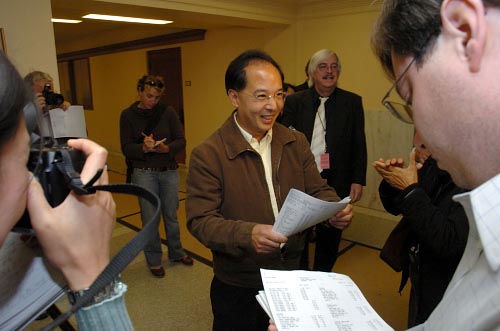 ####