Sean Elsbernd receives first ever
Kathleen Harrington Leadership Award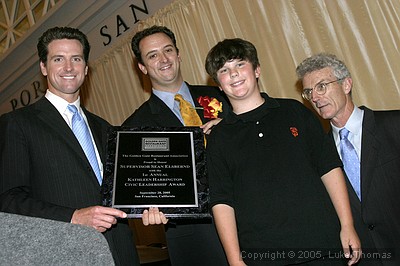 District 7 Supervisor Sean Elsbernd, second from left, with Kathleen Harrington's son and husband, Patrick and Michael; as Mayor Newsom presents award.
Photo(s) by Luke Thomas
September 29, 2005
Supervisor Sean Elsbernd last night received the first Kathleen Harrington Leadership Award, awarded by the Golden Gate Restaurant Association (GGRA).
"Supervisor Elsbernd has been a good friend to San Francisco's restaurants. He understands the importance of the City's restaurant and hospitality industries to its economy and he has consistently supported these industries through his leadership in the community and on the Board," said Kevin Westlye, GGRA executive director.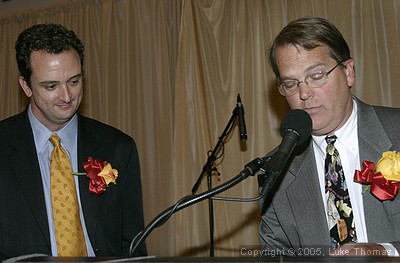 GGRA executive director Kevin Westlye opens the event.
The 7:00 p.m. celebration was held at the Ferry Building, with Westlye introducing Mayor Gavin Newsom who presented the award to Elsbernd.
"I can only believe that Kathleen would be extremely pleased that he has been chosen to receive this award in her honor, Westlye added in introducing Newsom."
Some 300 guests supped on dishes prepared by 23 celebrity chefs as Newsom noted Elsbernd accomplishments.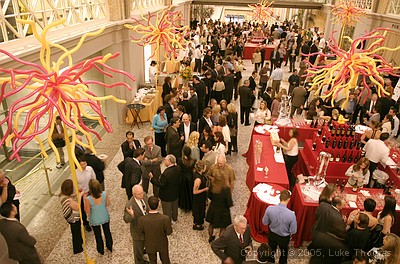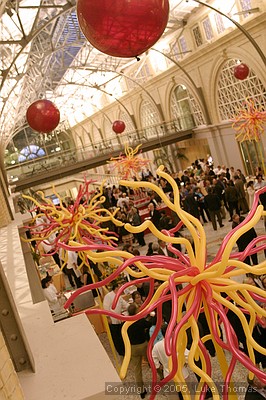 "She cared deeply about the city. She cared deeply about the values of the city, about the principles of the city, and she had a remarkable capacity to see beyond ideology," Newsom said of Kathleen Harrington.
"She could see beyond exclusion, and see a city where everybody's working together, and living together across their differences.
"She was a fighter, she was tenacious, and she had a great sense of humor on top of all that.
"So tonight I think it's a fitting tribute that tonight we recognize someone that she would have supported for this award, someone she believed in, someone who shares so much of the same qualities as Kathleen, recognizes the importance of the private sector, recognizes the importance of the business community, recognizes you can't have economic growth without entrepreneurs who are willing to take risks, to go out and create the jobs that make San Francisco such a special place.
"There is someone who recognizes that, who has been demonstrating that…so it's my pleasure to recognize Sean Elsbernd with the first ever Kathleen Harrington Civic Leadership Award in the City and County of San Francisco presented on behalf of the Golden Gate Restaurant Association."
Elsbernd recalled his special affinity with Harrington.
"Thank you all very much for coming out tonight, and thank you to the Golden Gate Restaurant Association.
"When Kevin told me six weeks ago that I was going to be presented with the award, and told me that I was going to be named after someone who was so important to me not just politically, but someone who I welcomed as a friend.
"She was a wonderful friend. It's my hope that this award, not just this first year, but as it continues year on and year on, that every winner of this award follows in Kathleen's footsteps, and follows her in her commitment to what I like to call 'passionate common sense.'
"No one was more passionate about the simple, common sense things that government more often than not wasn't able to deliver.
"Kathleen epitomized passionate common sense, and it's my hope that other recipients of this award follow in those footsteps, and I know having this award, and I will proudly display this in my office, will inspire to follow that example.
"And lastly, not just that common sense, but the trait of Kathleen's that I think all of us appreciate, whether we knew her in the business context or whether we knew her as friends, was Kathleen's remarkable loyalty to those issues she cared about, but more importantly to her friends, and to her family.
"I think we should all recognize Michael and Patrick (father and son respectively of Kathleen Harrington) who have come tonight. Kathleen has a great legacy in this city, all her great work that she did with the restaurant association.
"But let's not forget that Kathleen's greatest legacy is right here. It's her family, and their blood will live on for Kathleen.
Chefs included Lionel Walter from Aqua, served his lemon verbena panna cotta; Emily Lucchetti from Farallon, who dished up fig tarts; Peter Osborn from Momo's, who created his crab cakes and oysters rockefeller; Dan Scherotter from Palio d'Asti, who prepared his olive-cured salmon; and, Ty Mahler from Roy's Restaurant, who served crispy
tarot chips with scallop ceviche.
"Not many cities in the United States, let alone the world, can boast the consistently high level of culinary accomplishment that this region can," said James Ormsby, executive chef at Jack Falstaff restaurant and an Oakland native who has been producing award-winning food at some of the best and most innovative restaurants around the Bay Area for 15 years.
"It really speaks to the importance that residents of this region place on superior food and superior dining." Charles Phan, executive chef at Vietnamese restaurant Slanted Door, also credited the valuable work that GGRA performs for its more than 800 members to promote the food and restaurant industries and ensure that they continue to flourish.
"The San Francisco restaurant industry faces many serious challenges to its ability to survive and thrive," Phan said. "The GGRA gives us a strong, unified voice in making sure that policy makers and decision makers are well aware of the vital importance to this region's economy and cultural backbone of maintaining a vibrant restaurant industry."
"No one was perhaps as familiar with those challenges as Kathleen Harrington, a former GGRA Board President who passed away in January. That is why the GGRA created the Kathleen Harrington Civic Leadership Award, which it delivered for the first time at this year's Toast of the Town," Westlye explained.
####