Elsbernd moves to clean up backlog of Police Commission disciplinary cases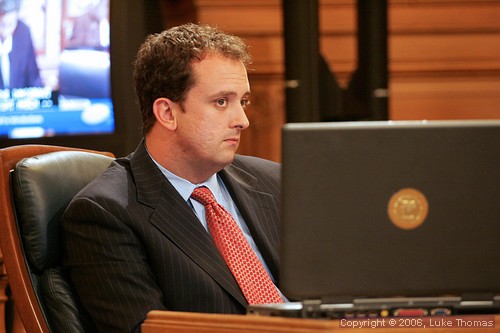 Supervisor Sean Elsbernd at yesterday's Board of Supervisor's meeting sponsored a motion approved by Supervisors calling on the Office of Legislative Analyst to compare San Francisco's police disciplinary process with other California cities.
Photo(s) by Luke Thomas
August 9, 2006
In response to a recent recommendation by a police ethics panel, the Board of Supervisors approved a motion Tuesday that could lead to longer suspension times for police officers involved in disciplinary cases.
The motion, sponsored by Supervisor Sean Elsbernd, calls for the Office of the Legislative Analyst to compare San Francisco's disciplinary process with other California cities.
"By taking it to the legislative analyst's office, I think I'm going to be able to flush out some of the recommendations that were made and hopefully from there develop some legislation that the board can consider," Elsbernd said.
One recommendation is to grant Chief of Police Heather Fong the authority to suspend officers for up to 90 days. Currently, the city charter limits suspensions to 10 days. Any disciplinary action greater than that must be referred to the Police Commission, which the ethics panel reported was overburdened with disciplinary cases.
Elsbernd believes the majority of these cases should be dealt with by the police chief instead, and hopes to see an amendment to the charter in 2007.
"It's going to justify the need for a charter change to allow the police chief to suspend officers for up to 90 days," he said. "I think there are a lot of disciplinary cases that fall in that 10 to 90 day window that don't warrant a committee hearing."
Giving the example of an off-duty officer arrested for a DUI, Elsbernd said, "Does that really require a Police Commission hearing? I think it certainly requires more than the 10 days currently allowed, but I don't think it requires more than 90 days."
Under the current charter, the incident would go through the commission process, which Elsbernd sees as detracting from the commission's main purpose.
"[The Police Commission] should be looking at policy issues related to the citizens' safety," he said. "That's what I think a commission should be about, recommending changes to our laws … changes to the way the police department handles things. But they are just inundated with these cases that are not major disciplinary cases."

####