The CrackBerry Chronicles
With Elaine Santore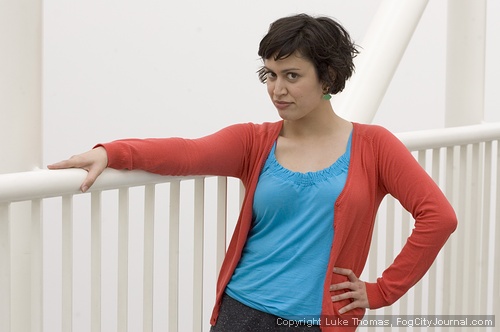 Photo(s) by Luke Thomas
July 24, 2007
Political wardrobe stylist for hire
One of my fabulous fashion friends forwarded me an article from the New York Times Style section entitled "Campaign Chic: Not Too Cool, Never Ever Hot." The author, Guy Trebay argues that while style is definitely important on the campaign trail, it doesn't help a candidate's image to be too fashionable. Basically, candidates should look good without looking like they're trying too hard.
Back in February, fashion designer Donatella Versace told German weekly Die Zeit that New York Senator Hilary Clinton should wear more skirts. "She should treat femininity as an opportunity and not try to emulate masculinity in politics," the uber-tan, muppet-like designer said. Um, didn't Donatella makeover Chelsea Clinton once? That friendship didn't last too long.
However, Trebay makes the argument that, "The old Hillary Rodham Clinton has been replaced by a candidate who would never be caught dead in one of Nancy Pelosi's flaming 'Dynasty' suits, clothes that send up power woman flares." Why anybody would use the word "flaming" to describe anything about Pelosi is beyond comprehension, but whatev.
I don't agree with most of Pelosi's politics, but I always admire her ability to turn it out with fabulous Armani suits, perfectly coiffed hair, and the Botoxed power face no matter the occasion. The same can be said of her nephew, Mayor Gavin Newsom. Neither one of them is that effective, so maybe they should spend less time on their hair and more time on the issues?
I'm as shallow and image-obsessed as the next twenty something nightmare, but I'd trade all of Newsom's designer duds for a mayor who shows up to his job, doesn't run away from the press, and is honest with the constituents.
Despite all my ranting and raving, if there are any candidates out there who need a wardrobe stylist, y'all know where to find me.
Concerts at the Cadillac
On Friday afternoon, Luke Thomas, Julian Davis and I attended a piano concert at the Cadillac Hotel at 380 Eddy Street (at Leavenworth). It's the first installment of a weekly series entitled "Concerts at the Cadillac." Every Friday at noon, the Cadillac will host a piano concert showcasing professional musicians.
The marvelous, newly restored 1884 Steinway Concert Grand Piano was generously donated by Lee Walkup. Lee's sister, Patricia Walkup, was an activist who volunteered at the Cadillac Hotel.
Here are some YouTube clips of Beyond Chron's Paul Hogarth playing Clair de lune (Debussy), and our very own Luke improvising for a bit after the concert. Luke will be performing on August 17th (though he denies it).

Paul Hogarth
Video by Joe Eskenazi

Luke Thomas
Video by Joe Eskenazi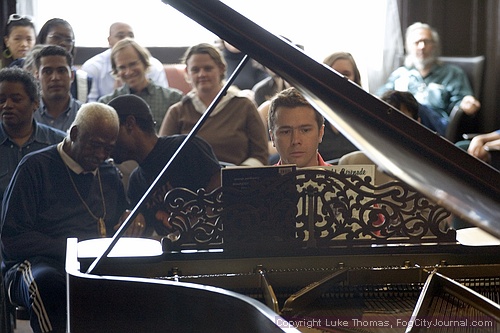 Paul Hogarth, Man for All Seasons: lawyer, writer, advocate, and pianist.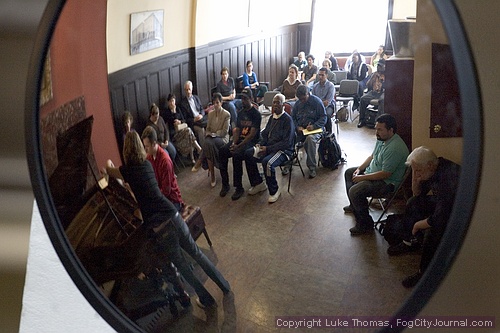 Hogarth got some page-turning help.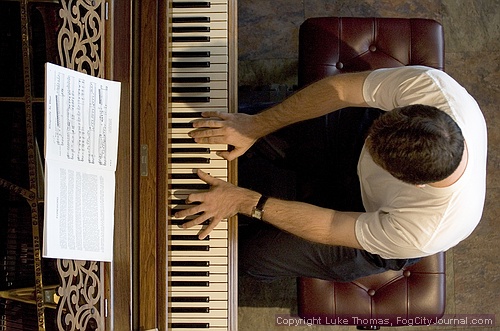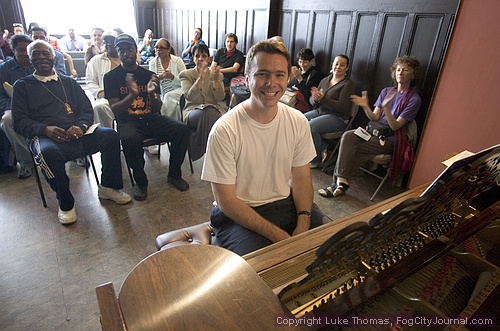 The artist is all smiles after his performance.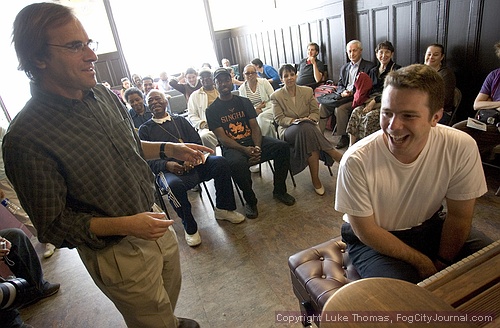 Beyond Chron's Randy Shaw asked, "Are you taking requests?"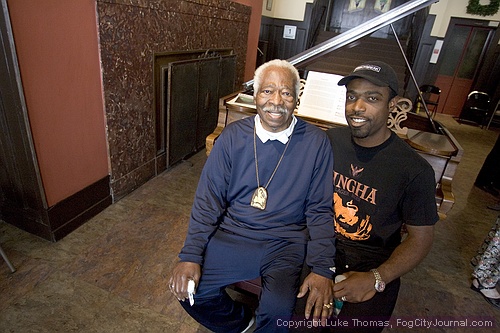 Owner of the Cadillac and Father of the Tenderloin, Leroy Looper, with son Malik.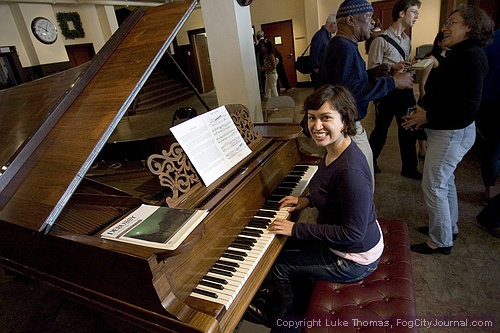 CrackBerry pretends to have musical talent.
CrackBerry Blind Item
Who is rumored to be shopping around a tell-all book with lurid tales of an elected's illicit affair?
####