Winners emerge in Escape
from Alcatraz triathlon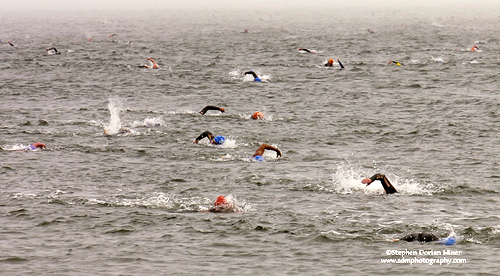 Escape from Alcatraz tri-athletes brave the frigid waters
of the San Francisco Bay
Photo(s) by Stephen Dorian Miner
Bay City News Service
June 5, 2006
SAN FRANCISCO (BCN) - A Boulder man emerged as the winner of the 26th annual Accenture Escape from Alcatraz triathlon Sunday, which required competitors to swim one and a half miles to shore from the famous prison island.
Contestants also rode an 18-mile bike race and ran eight miles through San Francisco in the 8 a.m. competition, which drew participants from 33 countries, according to organizers.
Matt Reed, of Boulder, finished the race with a time of 2:03:26, while second place went to another Coloradan, Andy Potts of Colorado Springs, with a time of 2:04:08. Canadian Simon Whitfield came in third with a time of 2:04:32.
The first woman to finish, Becky Lavelle, also of Colorado Springs, finished with a time of 2:23:30.
According to organizers, the triathlon is one of the most difficult in the world.
A complete list of results is available at the Web site
http://triathlons.accenture.com.
Copyright © 2006 by Bay City News, Inc. -- Republication, Rebroadcast or any other Reuse without the express written consent of Bay City News, Inc. is prohibited.
####