TODCO opens new affordable
senior housing center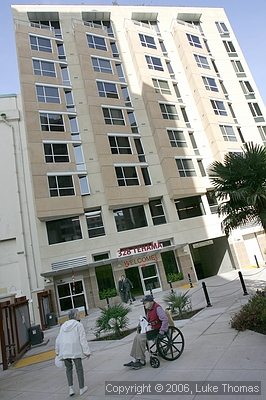 Grand Opening yesterday
of the Eugene Coleman Community House
Photo(s) by Luke Thomas
From TODCO
January 13, 2006
Some 129 low-income seniors yesterday celebrated opening of the 4th and Tehema Streets Eugene Coleman Community House.
The new HUD-assisted housing, developed by SOMA's longtime nonprofit TODCO Group and located directly opposite the Moscone West Convention Center, stands on a former overflow parking lot owned by the San Francisco Housing Authority. It adds desperately needed new senior housing for San Franciscans over 62 years of age to the otherwise fully built-up Yerba Buena Redevelopment Area.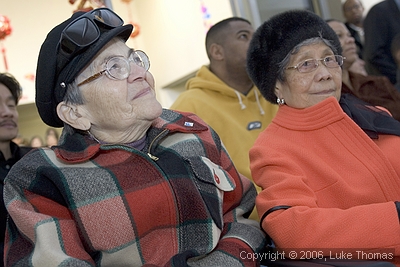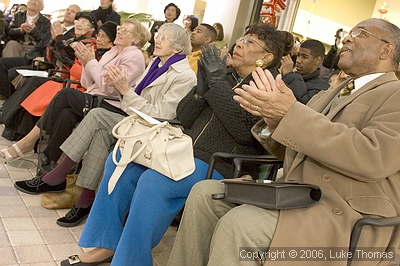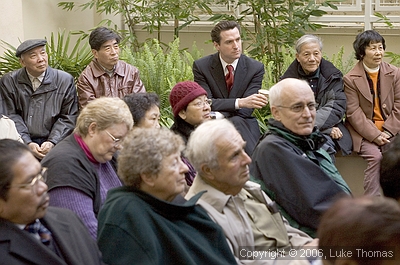 This $21 million development is a precedent-setting collaboration between the community-based TODCO Group and the San Francisco Housing Authority. In exchange for a 55-year ground lease for the site, formerly part of the existing Clementina Towers Senior Housing Development (and also adjacent to TODCO's Woolf House senior housing), SFHA will receive future annual funding to support resident services for the senior tenants of that 276 unit project @ 75% of net revenues from retail space in the new Coleman House building (with the other 25% funding resident services for Coleman House tenants). And SFHA senior House tenants). And SFHA senior waiting list applicants were given first priority to apply for its very attractive new apartments, filling 68 of the units. According to the Mayor's Office of Housing, most seniors in San Francisco looking for affordable housing will face a wait of five years or more. The lucky households that moved into Coleman House following a lottery selection process when it opened last September pay only 30% of their income for rent and enjoy large studio and one bedroom apartments. Residents also share amenities such as a sheltered interior Courtyard, brightly-painted Activities Rooms, a Recreation Room, and the newly combined landscaped outdoor areas shared with the residents of the Clementina Towers and Woolf House residences - "Clementina Commons.'
Development of Coleman House was funded with: $11.4 million from the San Francisco Mayor's Office of Housing; $7.5 million from the U.S. Department of Housing and Urban Development "Section 202 Program"; nearly $1 million from the San Francisco Redevelopment Agency; $500,000 from the TODCO Group's Yerba Buena Housing Sites Trust Fund; $425,000 from the Federal Home Loan Bank's Affordable Housing Program; and $65,000 from the Northern California Community Loan Fund. HUD also provides the ongoing rent subsidy that makes it possible for tenants to pay bargain rents of about $200 per month for singles and $400 per month for couples.
Coleman House was designed by Kwan/Henmi Architecture/Planning, and constructed by Cahill Contractors, both distinguished San Francisco firms well-known for their affordable housing projects.
The building is named after Eugene Coleman, a long-time community leader in South of Market and San Francisco, and presently a senior official of the Mayor's Office of Community Development. Gene Coleman was the much-loved director of the Canon Kip Community Center in South of Market from 1965 to 1985, and was one of the TODCO's founders in 1971 along with the members of TOOR who opposed the Redevelopment Agency's demolition of their community for the Yerba Buena Center project.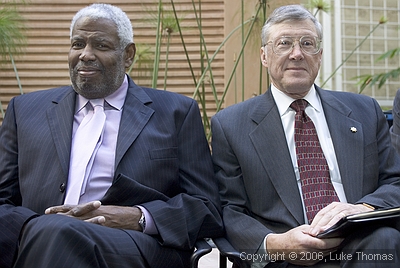 Eugene Coleman at left
In the four decades since, he has witnessed the rebirth of an entirely new Yerba Buena Neighborhood in its place. The building's prominent "COMMUNITY" sign in large red letters above Howard Street reminds all passers-by that the Yerba Buena Neighborhood is not just a convention and cultural center, but also the place that 2,000 senior residents are all proud to call "Home."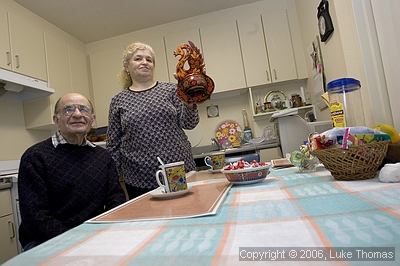 Moscovite expats Marat and Tatyana Marglina in the kitchen
of their low-income housing unit. Tatyana is holding a Hohloma,
a popular form of Russian decorative art.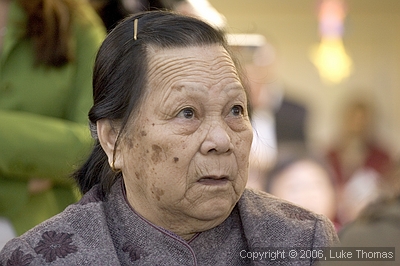 ####