Jury awards $46,000 civil damages
to Fajitagate beating victims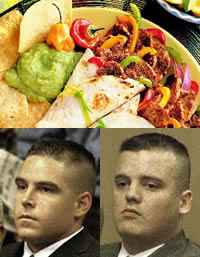 Photo courtesy sfist.com
By Julia Cheever, Bay City News Service
June 13, 2006
A San Francisco Superior Court jury awarded $46,000 yesterday to two men who were beaten by off-duty officers in a fight over fajitas in 2002.
The awards were won in a civil lawsuit in which Jade Santoro and Adam Snyder claimed three off-duty officers beat them and used excessive force in a fight over a bag of fajitas outside a Union Street bar on Nov. 20, 2002.
The jury found that two officers were liable: former officer Alex Fagan Jr., who is the son of former Police Chief Alex Fagan Sr., and Officer Matthew Tonsing.
The third off-duty officer, former officer David Lee, was
exonerated by the jury in the court of Judge Paul Alvarado.
Ben Rosenfeld, a lawyer for Santoro, said the jury found that Fagan Jr. and Tonsing were jointly liable for $32,000 in compensatory damages to Santoro and $9,500 in compensatory damages to Snyder.
The jury also awarded punitive damages to Santoro of $1,500 from Fagan Jr. and $3,000 from Tonsing, Rosenfeld said.
Rosenfeld said, "A San Francisco jury has sent a resounding message that it will not tolerate police abuse. At long last, some measure of justice has been served stemming from a brutal beating and insidious cover-up by the police department."
Lawyers for the officers were not immediately available for comment.
The incident became known as the city's "fajita-gate" case. Seven top command officers of the San Francisco Police Department were briefly indicted, then cleared, on charges of obstructing justice in the department's investigation of the episode.
One of those officers was Alex Fagan Sr., who was assistant chief at the time of the incident.
Fagan Jr., Tonsing and Lee were tried on criminal assault charges, but juries acquitted them of most charges and deadlocked on a few lesser charges against Fagan Jr. and Tonsing.
Santoro and Snyder also sought to sue the city over the incident in a separate civil rights lawsuit filed in federal court in San Francisco.
But U.S. District Judge Jeffrey White dismissed the lawsuit in April, saying that the city was not liable because the two men failed to prove that the city had a policy of encouraging or condoning brutality by off-duty officers.
Rosenfeld said Santoro and Snyder are appealing that ruling.
Copyright © 2006 by Bay City News, Inc. -- Republication, Rebroadcast or any other Reuse without the express written consent of Bay City News, Inc. is prohibited.
####