Fajitagate cops to appear before Police Commission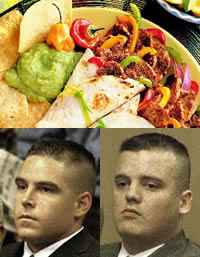 Photo/illustration courtesy sfist.com
By Brent Begin, Bay City News Service
August 3, 2006
SAN FRANCISCO (BCN) - Seven San Francisco policemen facing disciplinary charges in connection to the famed "fajitagate" case will have a chance to exonerate themselves in front of the police commission Thursday night.
In a session expected to be open to the public, each will be given 10 minutes to argue that the disciplinary charges filed by the police commission against them should be dismissed. The commission is then expected to deliberate in closed session and reveal its decision afterward.
Capt. Gregory Corrales, Lt. Henry Parra, Lt. Ed Cota, Sgt. John Syme, Inspector Paul Falconer and Officers Dan Miller and Gene Corwin are charged with "neglect of duty," in connection with a Nov. 2002 Union Street brawl involving three off-duty officers.
A civil court awarded $46,000 total to the two complainants who claimed they were accosted by Alex Fagan Jr., Matthew Tonsing and David Lee -- who were all off-duty officers at the time -- over a bag of fajitas.
The other officers are all allegedly involved with a cover up that occurred later.
The commission has already denied the officers' requests to dismiss the charges since they were originally filed in 2003, but due to a recent change in case law, the accused are once again appearing, according to commission secretary Sgt. Joe Reilly.
A representative from the Office of Citizen Complaints will have a chance to counter the arguments, and the officers are then allowed a five-minute rebuttal.
Also, near the end of the meeting, Chief Heather Fong is expected to update the commission on the officer-involved shooting of Asa Sullivan on June 6. Fong is expected to discuss whether the officers involved in the shooting, John Keesor and Michelle Alvis, will return to duty. The decision will be made in closed session.
A lawyer for Sullivan's family filed a $10 million civil suit today against the officers involved, Fong and the City and County of San Francisco.
Also during Thursday night's meeting, the commission is expected to review a new plan by the Board of Supervisors to redraw district lines every 10 years, and another plan to increase foot patrols in high-crime areas. Commissioners are expected to review the plans and submit suggestions to the Board of Supervisors.
The meeting is scheduled to take place at 5:30 p.m. in room 263 of City Hall. The previous two meetings were postponed due to the death of Officer Nick Birco.
Copyright © 2006 by Bay City News, Inc. -- Republication, Rebroadcast or any other Reuse without the express written consent of Bay City News, Inc. is prohibited.
####