San Francisco Supervisors condemn persecution of Falun Gong practitioners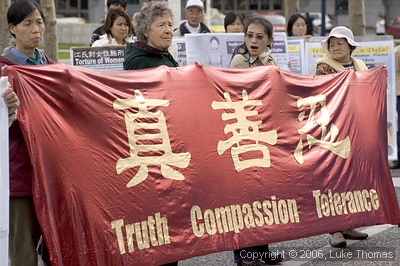 Photo(s) by Luke Thomas
By Tamara Barak, Bay City News Service
January 31, 2006, 9:00 p.m.
SAN FRANCISCO (BCN)-- The San Francisco Board of Supervisors this afternoon voted 9-2 to condemn the persecution of Falun Gong practitioners.
Local Falun Gong proponents are currently locked in a bitter dispute with the Chinese Chamber of Commerce over the chamber's exclusion of the spiritual group in the annual Chinese New Year's Parade.
Supervisors in favor of the resolution noted that it does not address the local controversy, but merely denounces discrimination and human rights violations. Falun Gong practitioners face considerable persecution in China.
Supervisors passed the resolution 9-2, with Aaron Peskin and Jake McGoldrick dissenting.
Peskin described his decision as a painful one.
"It was my feeling that this resolution wasn't about civil rights and freedom abroad," he said. He added that he couldn't endorse a religion that, according to his translator, was critical of inter-racial marriage, mixed race people and homosexuality.
Falun Gong practitioner Dr. Sherry Zhang countered that Peskin was taking the passages out of context and that her group welcomes everyone. Zhang, who is Asian, pointed out that she is part of an interracial marriage as well as a proponent of the Falun Gong movement.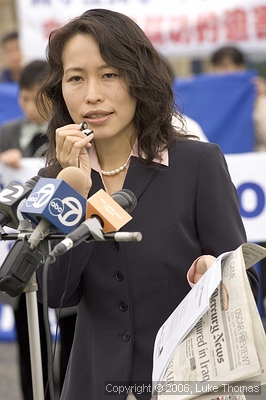 Dr. Sherry Zhang
"I'm married to a white husband and I married him seven years
after I started practicing Falun Gong," she said.

Copyright © 2006 by Bay City News, Inc. -- Republication, Rebroadcast or any other Reuse without the express written consent of Bay City News, Inc. is prohibited.
####