MORE THAN 250 POT PLANTS FOUND AFTER SF FIRE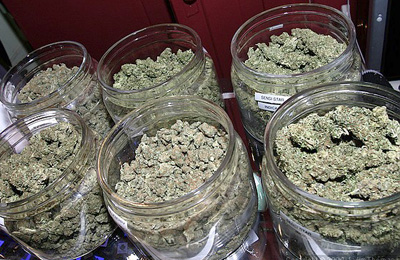 File photo.
Photo(s) by Luke Thomas
By Karli Bulnes, Bay City News Service
February 3, 2006
SAN FRANCISCO (BCN) - More than 250 marijuana plants were found at a home that caught fire this morning in San Francisco, according to San Francisco police Officer Maria Oropeza.
Police were called to the scene around 4:20 a.m. after firefighters put the one-alarm blaze out and discovered the pot grow.
Oropeza said several ounces of "magic mushrooms" were also found.
The San Francisco Fire Department received word at 3:38 a.m. of a fire burning in the lower level of a three-story residence on 19th Street.
The fire was first reported to be at 4567 19th St., but officials later said it was at 4565 19th St. According to Oropeza and a dispatcher with the Fire Department, the blaze was actually at 4567 19th St., which Oropeza said is an "attached residence.''
Howes described the fire as "fairly small," but Oropeza said that since it started at an attached residence, it "could have caused much more severe damage to surrounding residences.''
Howes said the fire was caused by an arcing wire. Oropeza added that the wiring "was used to provide energy to (the) marijuana grow."
Police said it appears people live at the home but no one was there at the time of this morning's fire and no one has been taken into police custody.
The Police Department is reminding San Francisco residents to be aware of what goes on in their own neighborhoods and to report all suspicious activity.
"It's important for residents to notify police whenever there's any type of suspicious activity in their residence such as heavy traffic in and out,'' Oropeza said, "Also, if there is equipment being carried in and out in the late evening hours at residences,'' police should be alerted.
Residents that suspect such suspicious activity in their own neighborhoods are urged to call the Police Department's narcotics division at (415) 970-3000 or the confidential tip line at (415) 575-4444 to remain anonymous.
Copyright © 2006 by Bay City News, Inc. -- Republication, Rebroadcast or any other Reuse without the express written consent of Bay City News, Inc. is prohibited.
####