Flamenco virtuoso strums Spanish guitar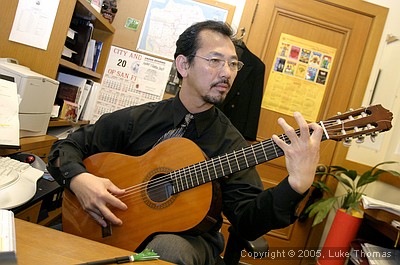 Photo(s) by Luke Thomas
By Luke Thomas
November 23, 2005
Supervisor Ammiano staff aide, Tomas Lee, treated the Sentinel to a luncheon recital of flamenco standards yesterday during an impromtu meeting to discuss universal health care.

"It's a great way to relieve stress," reported Lee, a veteran of gypsy-footed travels within San Francisco governance over the years.
Lee's travel grace is mirrored in flamenco dance deriving its origins from at least four cultures; Gypsies, Moors, Jews and indiginous Andalusians

Flamenco is a traditional form of dance practiced throughout Spain. In the Sacromonte area of Granada tourists can witness and even take part in the flamboyant dances.
Gypsy refugees entering Spain in the 15th century have been credited with the creation of flamenco. The communities had traveled extensively throughout India and the Middle East and flamenco is a fusion of the different dance, folklore and music traditions they encountered on their travels. It symbolizes an outpouring of grief and emotion at being mistreated and downtrodden by every civilization they have encountered.
####