BURNING MAN SCULPTURE 'FLOCK'
TRAVELS TO CIVIC CENTER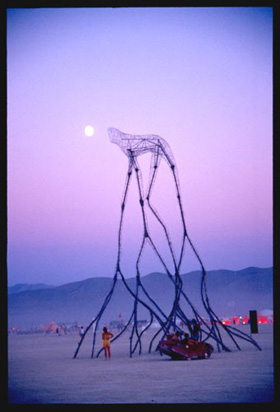 Photo Courtesy HOVERING 2001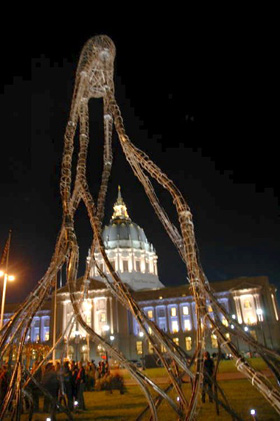 fogcityjournal.com Photos by BILL WILSON
From the Mayor's Office of Communications
November 18, 2005
Mayor Gavin Newsom, artist Michael Christian, members of the Black Rock Arts Foundation, the San Francisco Arts Commission, project supporters and volunteers took part in a dedication ceremony yesterday for Michael Christian's 'Flock,' the second in a series of major works of temporary art presented by San Francisco Bay Area artists who have created work for the Burning Man event.
The 42-foot tall sculpture of welded-steel is an ambitious work that features a subtle morphological transformation from plant to animal shapes as it rises from the ground, gradually articulating a mythical creature at its crown. The
sculpture will be in place until mid-February 2006.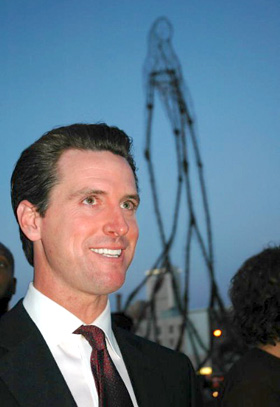 Mayor Newsom said regarding his support for public art installations in the City, "Public art such as artist Michael Christian's 'Flock' will further identify San Francisco as a diverse and stimulating cultural environment that enriches the lives of the city's residents and visitors," Newsom continued, "Art strengthens the cultural integrity of San Francisco, and we are excited to work collaboratively with Black Rock Arts Foundation, SF Arts Commission and many of its supporters in making this a reality."
Michael Christian has been creating monumental sculpture in California and Nevada for the past ten years, "When you have the opportunity to work in very large scale, you offer people a chance to relate to something physically in a way which is, I hope, surprising." About the sculpture's debut in Civic Center, Christian says, "Flock was originally created for Burning Man, and was set against a desert backdrop. I'm excited to see Flock in an urban setting, against the amazing architecture of Civic Center, and to see how people respond to it."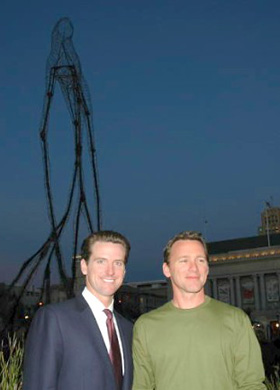 Sculptor Michael Christian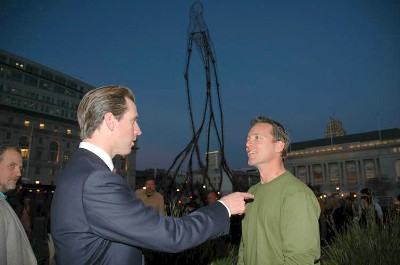 Leslie Pritchett, the Foundation's executive director, "Artwork is a medium for change to the degree that it causes people to interact with one another in ways that they normally might not. If the artwork gets people to talk with one another, if it seeds engaging conversation, and it gets people to cross normal social boundaries, its working."
At the core of the Foundation's mission, is the mandate to work with artists and their communities to create and display works of art that help bring about social change.
The Foundation helps to bring artwork to public spaces, out of the sometimes rarified context of museums and galleries, and into people's daily lives.
For more information about Michael Christian's work, or to express an interest in finding Flock a permanent home at the close of the exhibition, visit: www.michaelchristian.com. To learn more about the Black Rock
Arts Foundation, to donate to the Flock Exhibition Fund, or to become a member, visit www.blackrockarts.org.

####