Data collection for violent crime
is fragmented and not easily accessible,
supervisors conclude
December 13, 2005
A new city committee on gun and gang violence began its first task of collecting raw data yesterday, discovering data collection is fragmented among several agencies and not easily accessible.

As city and community leaders strain to coordinate all resources available from prevention to detention to end to street violence, participants lack quick access to needed information.

Two supervisors called for coordinated information flow.

Supervisor Ross Mirkarimi, who represents the violence plagued Western Addition, said coordination is essential and questioned Police Department willingness to implement instant review of investigation results.

Twenty of 94 homicides committed this year resulted in arrests, according to statistics presented to the committee yesterday.
The District Attorney has received 14 of 92 of those cases for prosecution.

Those statistics do not accurately reflect prosecution progress since it can take two years for a case to reach the courts, Police Captain Kevin Cashman stated.

Supervisor Chris Daly reported in a memo to the committee his request for police statistics required multiple transferred calls to receive less than what he asked.

The District 6 supervisor now asks release by the close of Wednesday for complete information. Daly represents the gang infested Mission District and troubled Tenderloin and South of Market neighborhoods.

He called for a performance and management audit of the San Francisco Police Department focused its homicide division.
The Select Committee on Gun and Gang Violence convened its first meeting with Supervisor Sophie Maxwell as chair.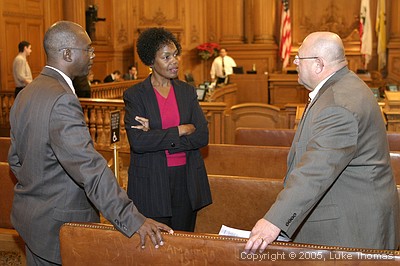 District 10 Supervisor Sophie Maxwell seen with chief officer of the San Francisco Juvenile Probation Department Bill Siffermann, right, during first meeting of the Select Committee on Gun and Gang Violence.
Photo(s) by Luke Thomas
Committee members include Mirkarimi and Supervisor Tom Ammiano. Supervisors Bevan Dufty and Michela Alioto-Pier attended the hearing.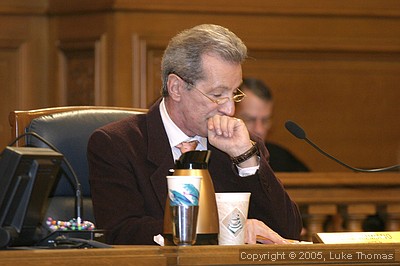 District 9 Supervisor Tom Ammiano.
Ammiano reiterated his call for 20 officers he described as "window dressing" at San Francisco International Airport be reassigned to violent city areas.

The full Board of Supervisors meets today at 2:00 p.m. in second floor Board Chambers of City Hall.

####