Abused and Neglected Children to Benefit from Charity Auction of Jerry Garcia Curiosities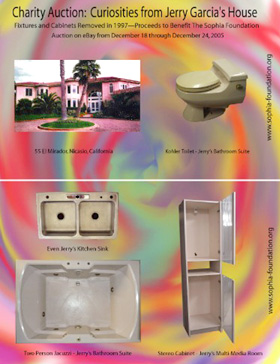 December 18, 2005
SAN FRANCISCO -- (BUSINESS WIRE) Famed rocker Jerry Garcia's curiosities and fixtures will be auctioned on eBay beginning December 18 as a 100% charity benefit for abused and neglected children.

Included are curiosities that once belonged to Garcia ranging from his two-person Jacuzzi, Sub Zero fridge/freezer, stereo and AV cabinets, toilets, bidet -- even his kitchen sink.

On August 9, 1995, music and social icon Jerry Garcia passed away in a Woodacre treatment center, eight minutes from his Northern California home in Nicasio.

Software executive Henry Koltys purchased Jerry's home from the Garcia Estate on May 14, 1997, removed fixtures and cabinets from the house, and placed them in storage until now.
Koltys said, "I love his music and while I did not know Jerry personally, those who did say he was all about collaboration -- which is what this auction is all about."

Koltys is Chairman of The Sophia Foundation, a 501(c)(3) non-profit, whose mission is to benefit children and families during separation or divorce. Koltys is a volunteer for CASA (Court Appointed Special Advocate), a charity that helps millions of abused and neglected children each year.

Koltys' KidsFirst! custody agreement and parenting plan software will be customized and donated to CASA to help protect these children. www.nationalcasa.org and www.kidsfirst.incap.com Orrick, Herrington & Sutcliffe provides pro bono legal representation as a commitment to the community. www.orrick.com

Over fifty interesting fixtures and cabinets removed from Garcia's last home will be auctioned on e-Bay after Thanksgiving to raise much-needed funds intended to benefit millions of children each year. No administration costs will be deducted as 100% of auction proceeds will go to these charitable purposes.

Since Sophia is a non-profit, the amount paid in excess of the value estimated by the foundation may be tax deductible depending on the successful bidder's personal tax situation.

This auction is not affiliated with nor endorsed by either the Jerry Garcia Estate or the Grateful Dead.

####