Giants help to build giant dreams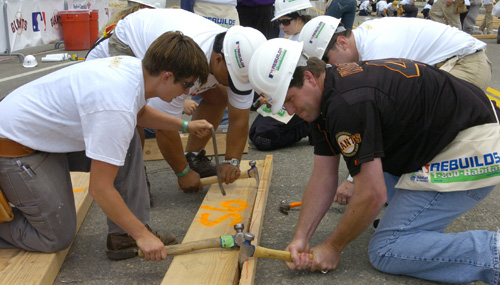 Photo(s) by Stephen Dorian Miner
June 27, 2006
San Francisco Giants reliever Tim Worrell pitched in today, kicking off a home building project at an event held adjacent to AT&T Park.
Assisted by staffers and volunteers from the Habitat for Humanity, Worrell, with wife Misty and their four sons in tow, began constructing the frame and walls for the house, which will eventually reside in the Outer Mission as part of the De Long Terrace Homes project.
The beneficiaries of the home, the Tang family, were present to watch the formation of their future residence, which is part of a larger effort by Habitat to build housing for low-income families.
The Giants teamed up with Bank of America and Major League Baseball (MLB), for the effort and MLB has pledged more than $1 million to help the building efforts. This included sending a team to New Orleans' Upper Ninth Ward last April to re-build homes damaged by hurricane Katrina.
San Francisco Habitat's Executive Director Phil Kilbridge participated in the New Orleans effort, which was part of Operation Home Delivery, and was amazed at the outpouring of effort from volunteers.
"People came from all over," Kilbridge said. "From New Jersey, from D.C…and they paid their own way."
Kilbridge said over 70 volunteers helped raze six homes, installed floor systems, while committing a week of their own time in the still hurricane ravaged area.
Here at home, Worrell hopes the project will spread the word of how important a home is to a happy family.
"For a family to have a place of ownership, and a place they can call their own…is a big thing."
####