San Francisco Giants welcome media
Club showcases new amenities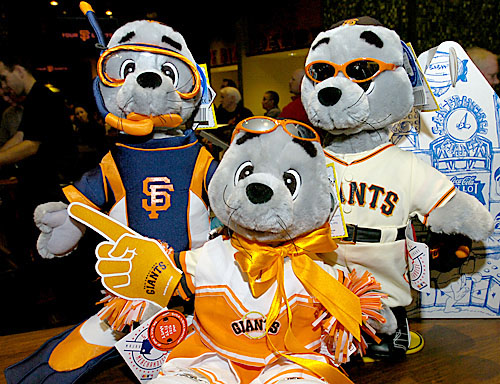 Photo(s) by Stephen Dorian Miner
March 29, 2006
Major League Baseball's San Francisco Giants held their annual Media Open House Tuesday, welcoming the press and using the opportunity to showcase what the team has to offer fans for the 2006 season.
Executive Vice President Larry Baer introduced new features and amenities, while answering questions - a few of which - of course centered on the controversy surrounding slugger Barry Bonds.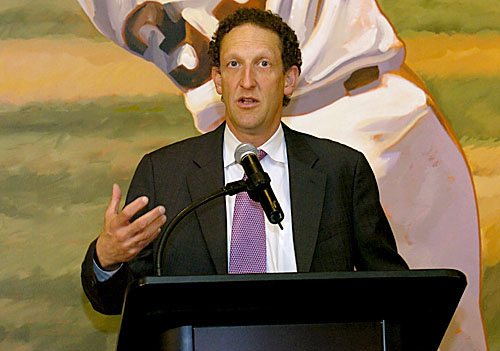 Executive Vice President Larry Baer
Since Bonds was not meant as the hot topic of the event - Baer skillfully moved on - and instead reminded attendees that the Giants' seventh year in their premier venue, now renamed AT&T Park - should be one to remember.
Although on the field, all the world will be looking towards Bonds, the superstar who is poised to break some of baseball's most hallowed records, the team took the time to showcase the club's history, and what the future held for attendees.
Not only were the media treated to a preview of the eclectic concessions, which always offer an exciting array of food choices for baseball fans, but given a tour of the newly renovated parts of the ballpark.
The promenade now boasts improved access and more areas for fans to socialize, hang out and anjoy the game.
Gone are the concession stands that often crowded walkways. Replacing them are tables, tucked away, that feature views of both the field, and the game - via a series of flat screen televisions.
Fans can eat, drink and watch the game on the technologically over the top screens, while still being able to see the field. The Giants, always ahead of tech game - offering free Wi-Fi access last season - have also changed their displays on the field, switching from the traditional roll over ads to an all LED 'fascia board,' which runs nearly the entire length of the park along the first and third base sides.
The displays will feature stats, pitch counts, out-of-town scores, and of course, advertisements. But they will be presented in a much more dynamic way than before. Steroids or not. Controversy or not. The Giants - on and off the field - are ready to perform for both their local fans and the baseball world.
Call it show, game or fame, what is considered the best ballpark in the league will offer what may be the best experience in baseball, whether you like the game or not.
####