Giants welcome homeless families
to SBC Park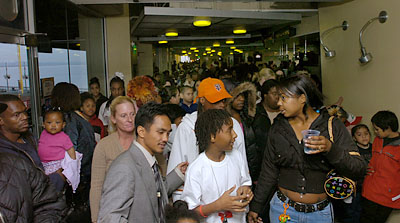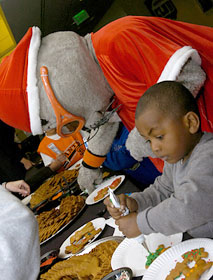 Photo(s) by Stephen Dorian Miner
December 17, 2005
Major League Baseball's San Francisco Giants welcomed homeless families to SBC Park for their Annual Holiday Party for Children Wednesday.

In its fifth year, the team opened up the ballpark's club level to families from the Hamilton Family Center, St. Joseph's Village Family Center and the Homeless Prenatal Program, for food, fun and gifts.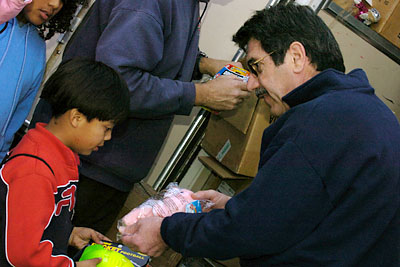 All were treated to pizza from Amici's, gingerbread cookies - which they could decorate themselves - including treats and special guests for the children. Giants mascot Lou Seal entertained, served pizza and posed for pictures, while Santa Claus greeted the guests upon their arrival.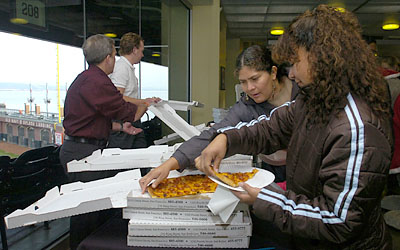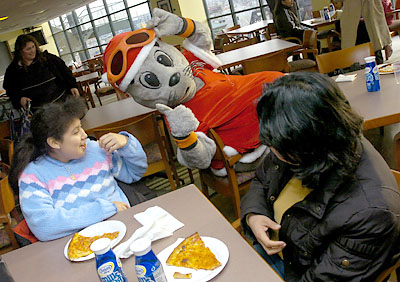 The Hamilton Family Center had approximately 65 children in attendance according to the center's director Suzie Sheedy.

"The children were from about 45-50 families from our five programs," Sheedy said.
Hamilton serves about 400-500 families yearly through its programs and shelters. Kids were each given a gift bag of Giants merchandise and members of the San Francisco Fire Department awaited the children, handing out toys from a fire truck as they exited.

"The party is so much fun for the kids," Sheedy said.
The Giants gave every child a sweatshirt, a t-shirt and a baseball. Always gracious hosts, the Giants offered their own version of holiday cheer for the less fortunate families of San Francisco.

"Our client population is different every year, but once the kids learn about the Giants party, they all want to go!" Sheedy remarked.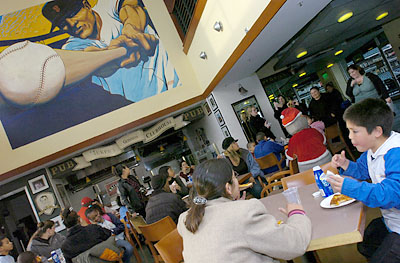 Learn more about the center at www.hamiltonfamilycenter.org and the Giants at www.sfgiants.com.
####