Governor, legislature, PG&E praise California agreement to combat global warming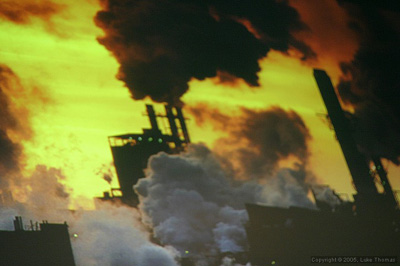 Photo(s) by Luke Thomas
August 31, 2006
California Governor Arnold Schwarzenegger yesterday announced an agreement with the California Legislature on legislation combating global warming.
San Francisco based Pacific Gas & Electric (PG&E) applauded the adoption of Assembly Bill 32 which sets the California model for caps on fossil fuel carbon dioxide emissions.
"Today, I am happy to announce we have reached a historic agreement on legislation to combat global warming.
"We can now move forward with developing a market-based system that makes California a world leader in the effort to reduce carbon emissions," reported the governor.
"The success of our system will be an example for other states and nations to follow as the fight against climate change continues. AB 32 strengthens our economy, cleans our environment and once again, establishes California as the leader in environmental protection."
PG&E chairman, chief executive officer, and president Peter A. Darbee quickly released a statement of support.
"We applaud Governor Schwarzenegger, Speaker Nunez, Assemblywoman Pavley and Senate President pro tem Perata for their leadership and for crafting an historic bill," noted Darbee.
"We're supporting this legislation because we are convinced that climate change is an urgent problem and action is needed now.
"By combining market-based mechanisms and enforceable emissions reductions, this bill strikes the right balance between improving the environment and protecting the economy.
"PG&E believes that California's leadership on climate change will help advance federal legislation, which is urgently needed.
"We look forward to continuing to work with California's leaders on this critical issue," Darbee concluded.
The plan provides flexibility, Schwarzenegger stated.
"Throughout the negotiations, my primary concern was that the Legislature passed a bill that provided the flexibility to address unforeseen circumstances. AB 32 will ensure that the state can make adjustments throughout its implementation," said Schwarzenegger.
"When I ran for office, I promised to not only help protect the environment, but also help turn back the clock to make sure that the environment we leave for our children is better than the one we have today. The state is the 12th largest carbon emitter in the world despite leading the nation in energy efficiency standards and its lead role in protecting its environment. Reducing greenhouse gas emissions is an issue we must show leadership on.
"It's amazing the work that can be done for the people of California when Democrats and Republicans work together. I want to thank Assembly Speaker Fabian Nunez, Senator Don Perata and Assemblymember Fran Pavley for the hard work they have put in to make this agreement something we can all be proud of."
####