Study: Car free Golden Gate park attendance doubles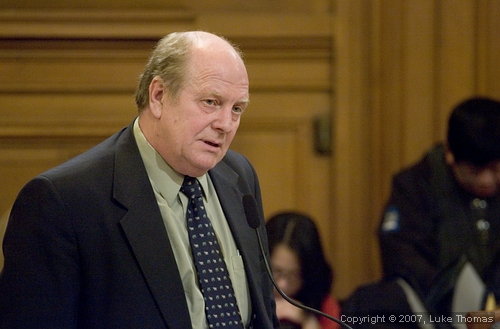 Supervisor Jake McGoldrick
Photo(s) by Luke Thomas
From the Office of Supervisor Jake McGoldrick
Study shows that the Car Free space on JFK Drive in Golden Gate Park more than doubles park usage and increases attendance to the museum and local merchants without a traffic increase
Last year, Mayor Newsom vetoed legislation sponsored by Supervisor Jake McGoldrick, that would close JFK Drive on Saturdays to cars just like it is, and has been, for 40 years on Sundays. The main reason for his veto was concern about potential negative neighborhood impacts and lower attendance to the institutions in the park.
Since the veto, a comprehensive study has been published that shows that the impacts to the neighborhoods due to Sunday closure were virtually the same on Saturdays vs. Sundays and the number of visitors to the de Young Museum is higher on Sundays.
"This study shows me that the Mayor should have no reason to veto legislation that I plan to introduce at the next Board of Supervisors meeting that will close JFK Drive from Kezar Drive to Transverse Drive, on a six month trial basis", said Supervisor Jake McGoldrick.
"The parking and traffic impacts are virtually the same on Saturdays and Sundays. The visitors to the park more than doubles on Sundays when the park is closed to traffic, and more people visited the de Young Museum and local merchants on Sundays," McGoldrick added.
The San Francisco County Transportation Authority managed the study and the data was collected on two weekends in August. The study can be viewed at www.goldengatepark.org.
"Finally, the facts about car-free space in Golden Gate Park speak for themselves. As someone who spends a lot of time in the Park with my family on Sundays, it is obvious that this is one of the most popular and successful programs in the City," says David Miles, a Richmond District father and leader of the CA Outdoor Roller Skating Association.
The study findings include:
- The number of people using the Prk increases by an average of 116% on Sundays compared to Saturdays, and more than triple (from 856 to 2,712) in the busiest areas.
- Pedestrian and bicycle usage also increases in the neighborhoods bordering the Park on Sundays, compared to Saturdays, by 24%.
- Traffic volumes around the Park do not increase significantly. No major intersection bordering the Park sees a significant delay in travel time, and residential streets measured were "virtually identical" on Saturday and Sunday.
- Car-free space encourages greater customer traffic to local businesses near the Park, based on figures showing half the people in the Park visit, or intend to visit, nearby businesses.
- Surveyed visitors state they were able to find parking "relatively quickly on both Saturday and Sunday, although visitors reported finding parking on Sunday somewhat faster." On average, half of drivers to the Park find a parking spot within five minutes.
- More Park users visit the de Young Museum on Sundays than on Saturdays (37% vs. 23% respectively)
Supervisor McGoldrick will join "Healthy Saturday" Supporters at a rally this Sunday, 2/18/07, in Golden Gate Park to celebrate the study's positive findings.
####