San Francisco Golden Gloves returns
75-year tradition not without controversy
in multi-night run at Civic Cuditorium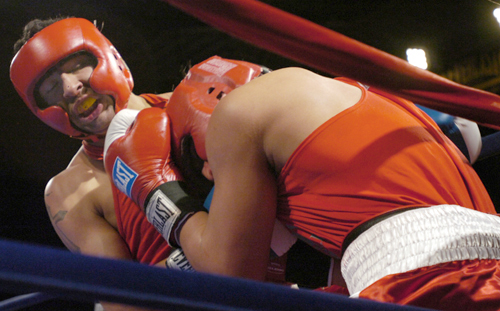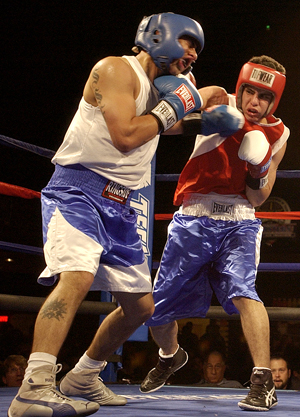 Victor Piceno (right) and Carlos Torres go at it
during the Gloden Gloves Wednesday night
at the Bill Graham Civic Auditorium
Photo(s) by Stephen Dorian Miner

March 27, 2006
The 75th annual Golden Gloves boxing tournament kicked off Tuesday at the Bill Graham Civic Auditorium. Despite the event's storied tradition in San Francisco, the well-attended amateur boxing match was not without controversy of its own.
Wednesday night's battles were plentiful and competitive, but the most contentious fight was not an 'official bout.' After a particularly violent blow-by-blow between David Douglass and Ryan Kotey, Kotey was declared the winner due to excessive injuries to Douglass, which amounted to nearly a knockout.
With Douglass laid out, nose bloodied and barely coherent, the referee called the fight. While medics checked the young boxer's condition, his coach argued vehemently that his boxer should be allowed to continue.


A bloddied David Douglass was knocked out - almost literally - in his bout against opponent Ryan Kotey during the Golden Gloves amateur boxing tournament at the Bill Graham Civic Auditorium last Wednesday
Going nose to nose with the ref, Douglass' coach would not take no for an answer, cursing and threatening him, both verbally and physically.
While it looked as though there would be a completely different kind of fight in the ring, San Francisco police officers and security stormed the ring, ending the altercation.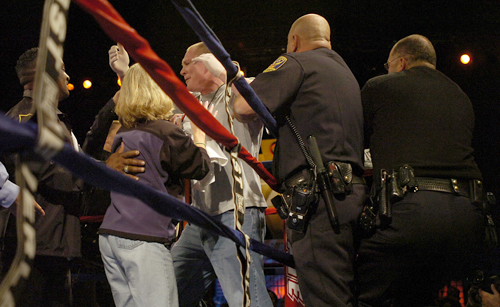 David Douglass' coach had to be escorted from the ring by the SFPD
after he picked a fight with the referee when the ref called the fight
The coach was escorted from the ring - and the arena - by the SFPD to boos and jeers from the audience such as "nice way to respect the game coach."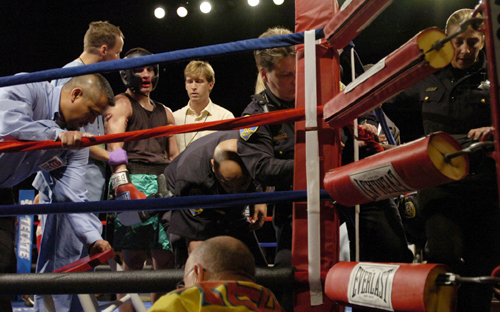 A bloddied David Douglass watches as SFPD take away his coach.
The fight was called after Douglas was knocked and his coach,
disagreeing with the call, started getting violent with the referee
At press time, it was unclear whether charges were filed.
####