Google faces federal lawsuit over alleged blackballing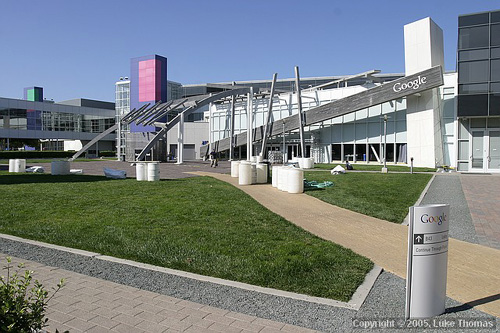 Google, headquartered in Mountain View, is facing a federal lawsuit
alleging illegal blackballing of websites.
Photo(s) by Luke Thomas

By Jason Bennert, Bay City News Service
June 29, 2006
SAN JOSE (BCN) - A federal judge in San Jose will hear arguments on Friday on whether Internet giant Google is illegally blackballing Web sites by preventing users from locating them through its search engine.
KinderStart.com, a Southern California-based Web site focused on the care and education of children ages 7 and younger, filed the class-action lawsuit in U.S. District Court in San Jose earlier this year. It accuses Google of being a monopoly in the search engine market that can drive Web-based companies out of business by putting them in "Google jail,'' preventing Internet users from finding their sites when they use Google's search engine.
"Google ... unilaterally and summarily terminated the free flow of speech, traffic and commerce from a sundry of Web sites, including those of plaintiffs to thousands of users in the public domain,'' according to the KinderStart lawsuit.
KinderStart argues that because of Google's commanding position as a gatekeeper for Internet searches, the government has the ability to order it not to blackball individual Web sites such as KinderStart.
In court papers filed seeking to have the lawsuit dismissed, Google argued that it has a First Amendment right to choose which Web sites its search engine users can view.
"If KinderStart were right, and Web sites could use the courts to dictate what the results of a search on the Google search engine should be, neither Google nor any other search engine could operate as it would constantly face lawsuits from businesses seeking more favorable positioning,'' according to the Google motion.
"Because the First Amendment protects Google's right to share its opinions about the relative significance of Web sites, KinderStart's complaint must be dismissed,'' the motion reads.
Judge Jeremy Fogel is scheduled to hear arguments from both sides as to whether the lawsuit should proceed on Friday at 9 a.m. at the federal courthouse in San Jose.
Copyright © 2006 by Bay City News, Inc. -- Republication, Rebroadcast or any other Reuse without the express written consent of Bay City News, Inc. is prohibited.
####