Attorney says Google has first amendment right to exclude pages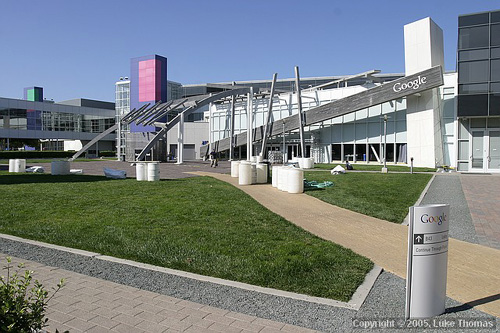 Google, headquartered in Mountain View, is facing a federal lawsuit
alleging illegal blackballing of websites.
Photo(s) by Luke Thomas

By Jason Bennert, Bay City News Service
June 30, 2006
SAN JOSE (BCN) - A federal judge in San Jose indicated today that a lawsuit accusing Google of blackballing a particular Web site will have to be re-submitted with more facts about Google's alleged illegal conduct.
KinderStart, a Southern California-based Web site focused on the care and education of young children, filed the lawsuit after Google allegedly put the site in "Google jail,'' preventing Internet users from finding it through Google's search engine. Google filed a motion to dismiss the lawsuit, arguing that it has a First Amendment right to choose which Web sites it highlights on its search engine.
U.S. District Court Judge Jeremy Fogel told KinderStart attorney Gregory Yu at the outset of this morning's hearing on the dismissal motion that he had a problem with the lawsuit.
"I think all of the claims, with the possible exception of the defamation claim, lack a certain specificity,'' Fogel said.
Fogel posed some pointed legal questions to Yu that the attorney largely did not answer. Yu told the judge that KinderStart needed to take depositions from Google to obtain information supporting its allegations.
"Plaintiffs are handicapped. The entire contents ... are buried in the bowels of Google,'' Yu said. Yu was unable to articulate for Fogel an overarching reason why Google would blackball KinderStart until finally the judge suggested a reason with which Yu quickly agreed.
"The reason Google is doing what they're doing to your client is that they're a competitor,'' Fogel said.
Fogel described KinderStart as a "boutique search engine'' focused on children's issues.
Google attorney David Kramer echoed the company's court documents that claimed Google has a free speech right to list Web sites any way it wants.
"Page ranks are subjective. They are Google's opinion,'' Kramer said.
Fogel questioned whether Google is defaming KinderStart, if KinderStart's allegations that Google is deliberately excluding it from search engine results turn out to be true.
"Aren't (Google staff) making a misrepresentation to the community and couldn't that form the basis for a defamation claim?'' Fogel asked Kramer.
Kramer once again said that under the First Amendment, Google can choose what it lists in its search engine results.
"The court can't, under Google's First Amendment rights, force Google to carry anything,'' Kramer said.
Fogel said he would issue a decision in approximately one week but told Yu that he would have to amend his lawsuit.
"The order I issue is going to require amendment of the complaint,'' Fogel said.
Copyright © 2006 by Bay City News, Inc. -- Republication, Rebroadcast or any other Reuse without the express written consent of Bay City News, Inc. is prohibited.
####