It's offiicial - 'Google' is a verb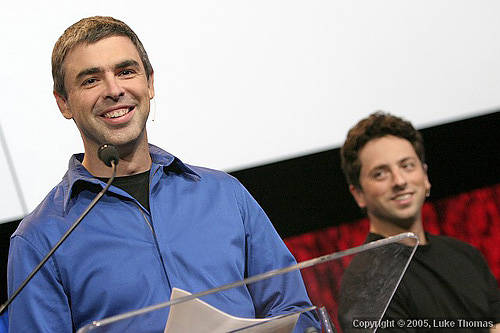 Google founders Larry Page and Serge Brin brought Google to life in September 1998. Since then, the word 'Google' has become synonymous with searching the web
and has now been officially classified as a verb.
Photo(s) by Luke Thomas
By Anna Molin, Bay City News Service
July 6, 2006
Google, googled and googling are words now used so commonly that top dictionaries are adding the transitive verb in their online and upcoming editions.
Merriam-Webster Online posted the definition "to use the Google search engine to obtain information about (as a person) on the World Wide Web" on Wednesday and announced today that google, in lowercase when used as a generic verb but uppercase when used to name the Mountain View-based company's trademark search engine, will show up in the 11th edition of Merriam-Webster's Collegiate Dictionary this fall.
"It's a consequence of us finding the word used in print so frequently that we feel it's appropriate to add it in our dictionary," Merriam-Webster Associate Editor Peter Sokolowski said today.
"When we find it in print, it is usually used without any definition at all so it is becoming naturalized."
Sokolowski noted that Merriam-Webster editors, who spend about an hour or two per day scanning newspapers, magazines and electronic publications for new words or word usages, found that references to the trademark search engine appeared more and more frequently as a generic verb in general publications this year. He noted, however, that technology words, like google, have popped up in electronic media for quite a while.
"Typically, people are amused by it," he said, referring to companies' reactions to their brands and products, such as Xerox copy machines and Hoover vacuum cleaners, being included in lexicons as verbs.
"It's an indication that the brand has penetrated the culture and is used in conversations and print as a generic name."
A Google spokesman said in a statement, "Defining Google as a verb and as using the Google search engine is appropriate."
The Oxford English Dictionary also added the term Google as a verb, though it retained the capitalization, in its updated version announced on June 15. The term also shows up on http://www.dictionary.com.
Google is only one of nearly 100 new words added in the Merriam-Webster's Collegiate Dictionary's 11th edition. Other eye-poppers include the nouns "mouse potato," which describes "a person who spends a great deal of time using a computer," "soul patch," which describes "a small growth of beard under a man's lower lip," and "sandwich generation," which depicts "a generation of people who are caring for their aging parents while supporting their own children."
Other new official words include "ringtone," "spyware" and "supersize."
Copyright © 2006 by Bay City News, Inc. -- Republication, Rebroadcast or any other Reuse without the express written consent of Bay City News, Inc. is prohibited.
####