Grace Cathedral announces largest gift in its history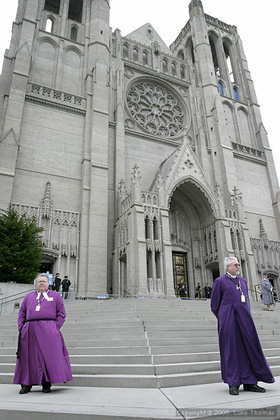 Grace Cathderal. File photo.
Photo(s) by Luke Thomas

January 23, 2006
SAN FRANCISCO (BCN) - San Francisco's famous Grace Cathedral has announced that it has received a gift valued at $18 million -- the largest in its history.

Henry William Edwards Jr. left the donation to the church in the form of real estate several months ago, according to church spokesman Brent Andrew. That real estate was then sold, the proceeds going to benefit the church.

Edwards joined the Grace Cathedral choir in 1925 as a young boy, according to the church. When his voice changed he left the choir, but its memory apparently did not leave him.

"This generous gift takes us much further than we expected to be at this point in our development work and we are grateful for it,'' said Dean Alan Jones in a statement. The gift, Jones said, would provide the basis for an endowment. It is intended to fund maintenance and restoration of the church buildings and grounds.

"I think people are very excited. This was unanticipated, so it's a very exciting for us,'' Andrew said.
####
Copyright © 2006 by Bay City News, Inc. -- Republication, Rebroadcast or any other Reuse without the express written consent of Bay City News, Inc. is prohibited.