San Francisco Great Quake recovery began in tents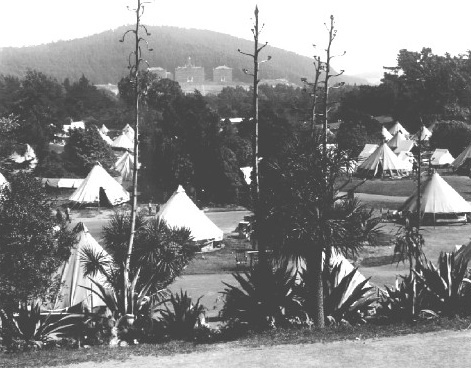 University of California Library Photo
April 5, 2006

San Francisco renewal began after the 1906 earthquake with making babies in tents, Great Quake tent baby Norma Norwood grinned Tuesday.
And the 99-year-old Norwood beamed that she still has great gams, a lifelong San Franciscan who followed in her father's bar business to become a saloon hall dancer.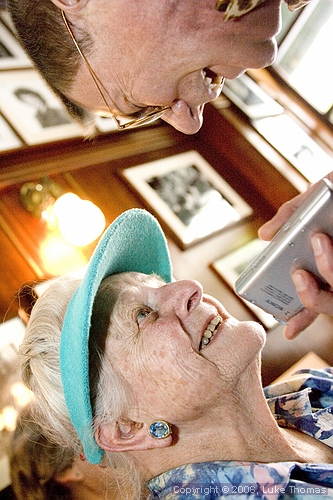 Want me to show you my gams, Norma Norwood offers
Photo(s) by Luke Thomas
Her father's Hamburg Saloon located at 416 Kearny Street was destroyed by the fire and the family home on Hawthorne Street had been lost to the quake.
"I was a saloon hall dancer," Norwood told the Sentinel in a gathering of survivors at venerable John's Grill.
"I took dancing lessons and I danced from the time I was six-years-old until I graduated from grammar school.
"You want me to show you?" laughed Norwood.
Survivors gathered for yet one more annual convocation organized by Taren Sapienza for the past 30 years.
This year marks the 100th anniversary of San Francisco's 1906 Earthquake immortalized in world mind, movies, and living memory.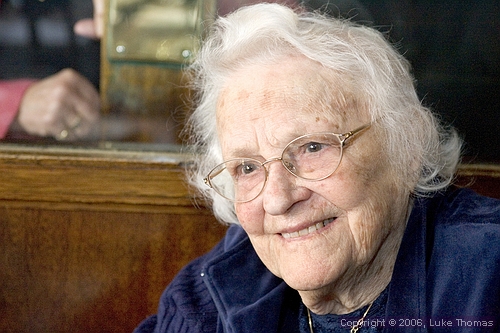 Della Bacchini, only one-year-old at time of the 1906 Earthquake,
remembers "my father lifting me up and carrying me away"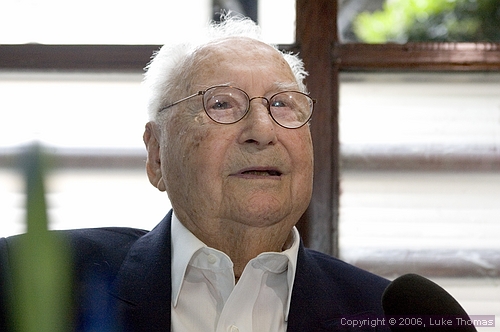 Herbert Hamrol also recalls being carried down stairs by his mother
to escape their damaged Sixth and Clementina Street home.
####