Medical marijuana permit denial said precedent
for concentrating problems in fewer neighborhoods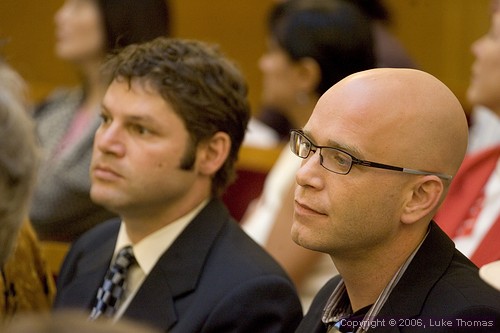 Kevin Reed watches as his permit application is denied
for a Fisherman's Wharf medical marijuana dispensary,
warning policy precedent could magnify problems in other neighborhoods.
Reed's attorney, Joe Elford, at left.
Photo(s) by Luke Thomas
By Luke Thomas and Pat Murphy
Copyright fogcityjournal.com 2006
July 14, 2006
The move to bring medical marijuana dispensaries into the light of legal regulation ironically could increase associated neighborhood problems, a prominent dispensary owner said yesterday.
Only five of the approximately 29 dispensaries now operating in San Francisco have applied for City permits, Kevin Reed told the Sentinel on the day his permit application was denied by the San Francisco Planning Commission.
Reed, who operated the Green Cross dispensary at 22nd and Guerrero Streets in Noe Valley until closed due to neighborhood concerns, said fewer clubs will concentrate problems to their location.
"Only five... have chosen even to apply for the permit," Reed told the Sentinel. Reed opened the first San Francisco dispensary and supports regulation.
"That's the scariest part. To me it's scary on behalf of all of the patients that only five clubs have applied because... that's only five clubs for 25,000 (medical marijuana) cardholders in San Francisco.
"If you think Noe Valley was complaining, wait until 25,000 people end up going into five clubs."
Past neighborhood complaints have focused on loss of parking, double parking, clients smoking marijuana on dispensary sidewalks, and some clients illegally selling their prescribed marijuana on those sidewalks to all comers.
Even with those problems arising citywide, Reed met all permit requirements, Planning Commissioner Director Larry Badiner told commissioners Thursday.

Planning Commissioner Director, Larry Badiner
The commission denied the permit on a 4-2 vote, citing significant neighborhood impact provision of City regulation authored by San Francisco Supervisor Ross Mirkarimi. Existing dispensaries have until July, 2007, to obtain an operating permit or shut down.
Reed acknowledged his Noe Valley dispensary had outgrown its location.
"It was a small space where we were before in a small residential neighborhood," stated Reed.
"The answer to it instead of closing me down was to allow me time to open a new store somewhere else to divert traffic, but they chose to close their neighborhood pharmacy down.
"The unintended effects of those thought patterns is that... there will be half of what there was a year ago."
He tried many options to stay open including merging with other dispensaries, Reed continued.
"I really tried every single option," he recounted.
"I tried to merge with other clubs during the transition. I had radio commercials. I had all kinds of stuff going.
"I would have done anything to save an inexpensive, professional atmosphere for the patients."
Reed complimented City staff and the Police Department for being cooperative during the process, but added that elected officials kept their distance.
"Nobody talks to me in the City. The bureaucrats are really wonderful through this process but the politicians have kept their hands off."

Mayor Newsom sympathized with Reed as an applicant who met City requirements, and Supervisor Ross Mirkarimi noted Fisherman's Wharf was a difficult choice for first test case.

"The Green Cross decided make Fisherman's Wharf this their first test case," Mirkarimi told the Sentinel.

"For better or worse, that's a pretty high profile first test case."

Reed has the option of appealing to the Board of Supervisors for overturn of Planning Commission permit denial.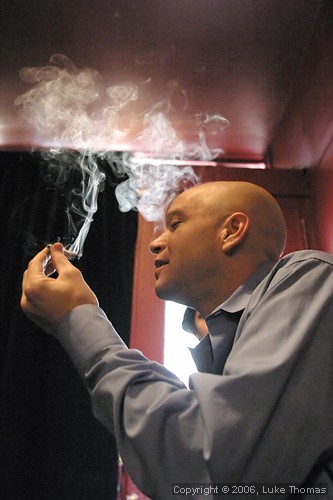 ####