Fog City Green Tip of the Day:
Compact Flourescent Light bulbs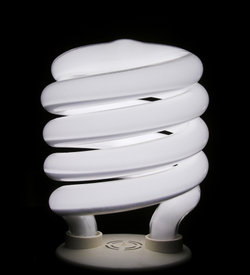 A compact flourescent light bulb uses one third the energy
of a conventional incandescent light bulb.
April 10, 2007
The hottest thing in household energy savings is the compact fluorescent light bulb (CFL). CFL's cost a bit more than your conventional incandescent light bulb yet use one third the electricity and last up to ten times longer than incandescent light bulbs.
CFL's are available nearly everywhere light bulbs are sold.
CFL's have come a long way since they were first introduced in the mid-90s. A 7-watt CFL is comparable to a incandescent 40-watt light bulb, and a twenty 26-watt CFL equates to a 100 watt incandescent light bulb.
What kind of difference can one CFL light bulb make?
If every American exchanged out just one incandescent light bulb for a CFL lightbulb, we would collectively save more than $8 billion in energy costs, prevent the burning of 30 billion pounds of coal and prevent two-million cars worth of greenhouse gas emission entering our atmosphere per year.
Incidentally, conventional light bulbs are to be banned across the European Union within two years in the fight against climate change.
Reduce greenhouse gas emissions from power plants and help to protect our environment from the increasing risk of global climate change. Yes, you can make a difference.
####