Ordinance protecting grocery store employees
moves to full Board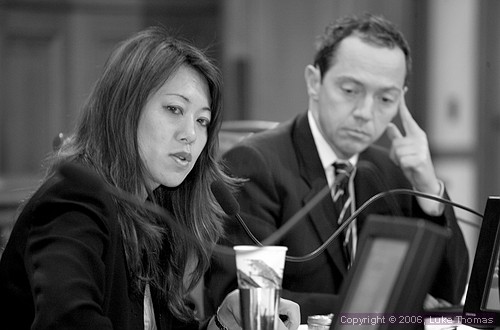 Supervisor Fiona Ma sponsored the Grocery Worker Retention Ordinance protecting grocery store workers when ownership changes hands. Supervisor Bevan Dufty, stalwart supporter of workers over predatory corporate interests, in background.
Photo(s) by Luke Thomas
April 18, 2006
Rebekah Alessi, 50, appealed to city officials at the City Operations and Neighborhood Services Committee to save her husband's job.
Alessi is a stay-at-home mother raising her daughter Shoshanah, 3 in North Beach. Her husband Gary, 50, works at the Cala Foods on California Street, one of eight local stores that is poised to close within the next few years. If Gary is laid off from his job, his family would have to move would have to move out of the city to find work, Alessi said.
At Monday's committee meeting Alessi spoke on behalf of her working husband at Monday's committee meeting in support of an ordinance that would protect the jobs of over 4,200 local grocery employees as their respective companies change ownership.
"My daughter and I are here to provide a picture of what this ordinance is all about," Alessi said. "It's about being able to let me raise my daughter in San Francisco."
Sponsored by Supervisor Fiona Ma, the Grocery Worker Retention Ordinance will require grocery employers to retain their employees for 90 days upon change in control of the grocery store.
"Grocery store workers are a vital part of the community," Ma said. "They have been trained on how to treat food properly and they take their jobs seriously. These workers must be treated fairly and with respect."
The 90 day grace period gives current grocery store employees a chance to demonstrate their knowledge and skills of safe food handling to their new employers, said Michael Sharpe, president of the United Food and Commercial Workers Local No. 648.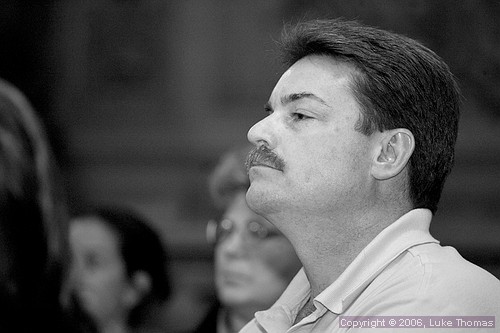 Michael Sharpe
"This is responsible legislation," Sharpe said. "It protects a group of individuals whose hard labor is finally being acknowledged."
The ordinance comes amidst news regarding management changes in some of the biggest grocery store chains in the nation, Sharpe said. Portions of supermarket chain Albertsons Inc. are being sold to Supervalu Inc., CVS Corp., Cerebus Capital Management and Kimco Realty Corp. Cala Foods is up for sale and has already closed two branches in San Francisco.
"The retail food industry is in a serious crisis situation due to store closures and acquisitions," Sharpe said. "New acquisitions are causing anxiety for those who are working in them."
Albertsons Inc. has six stores and 400 employees in San Francisco, Ma said. Supermarket chain Cala Foods owns ten local stores, represents 1/3 of the large grocery stores in the city and employs over 300 employees.
Lydia Rodriguez said she is currently employed at an Albertsons grocery store in the city. Rodriguez said in she experienced many corporate mergers and acquisitions in which her own employment status is uncertain during her 20 years of retail experience.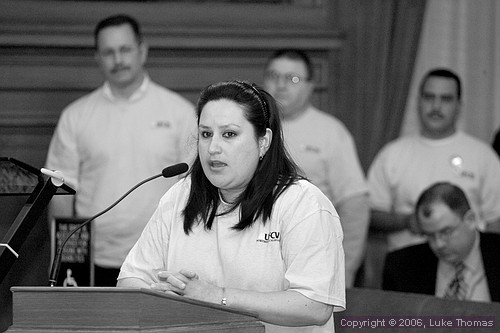 Lydia Rodriguez
"This legislation gives me piece of mind and gives me the opportunity to prove to my employers that I am capable to do my job," Rodriguez said.
The California Grocers Association is against the ordinance, local governmental relations manager Timothy James said. James said the ordinance will discourage grocery stores from opening or locating in San Francisco, especially ethnic grocery stores that want to expand their locations.
"Forcing ethnic and specialty stores to retain employees without unique understanding and knowledge of their operations will make these companies choose to buy or lease a grocery store outside the City limits," association president Peter Larkin said in a letter to the Board of Supervisors.
The association is also concerned about how the ordinance affects grocery stores only, James said. A growing number of general merchandisers are also handling food items.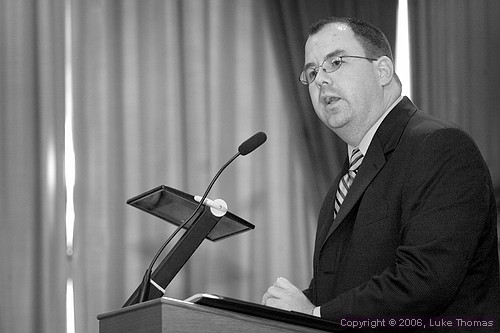 Timothy James
"We call for a legislative analysis of the ordinance because we believe that the board will be unable to fully deliberate on the issue without the necessary information," James said.
Tim Paulson, executive director for the San Francisco Labor Council, said there is always going to be a demand for grocery companies in the city.
"Eating is a pretty tough habit to break when it comes to food," Paulson aid.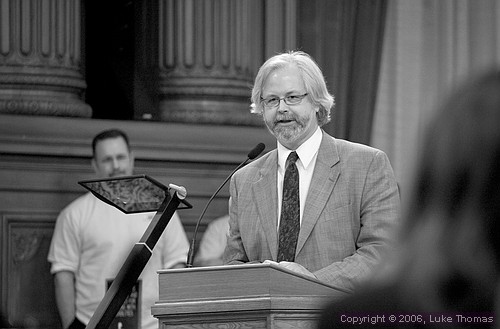 Tim Paulson
The Committee motioned to pass the ordinance and move it to a hearing by the Board of Supervisors in the coming weeks.
"One thing I hear consistently from my constituents is that they are comfortable at a grocery store when they know someone who has been working for the store for 15 years is still there," Supervisor Bevan Dufty said. "I will decide for the rights of workers every day."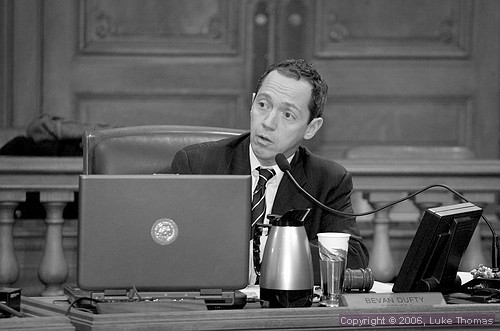 Supervisors Michela Alioto-Pier, Tom Ammiano, Chris Daly, Sophie Maxwell, Ross Mirkarimi and Geraldo Sandoval are also listed as co-sponsors of the ordinance. The latest supervisor to endorse the ordinance is Supervisor Sean Elsbernd, who was watching the committee meeting from his office. Elsbernd walked into the committee meeting to announce his co-sponsorship.
"My first job was a grocery bagger at Tower Market," Elsbernd said.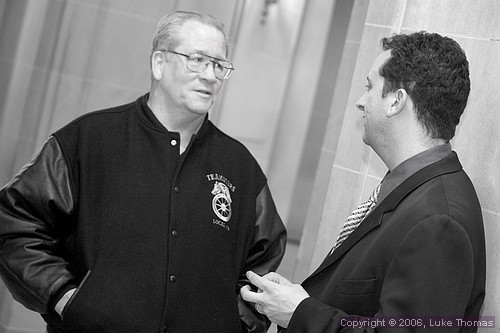 Terry McHugh, International Brotherhood of Teamsters Local 278,
and Supervisor Sean Elsbernd.
Elsbernd signed on as co-sponsor of the legislation mid-way through the hearing.
Stay-at-home mom Alessi said the committee's decision brought tears to her eyes.

Rebekah Alessi
"I'm so proud to be a San Franciscan tonight," Alessi said.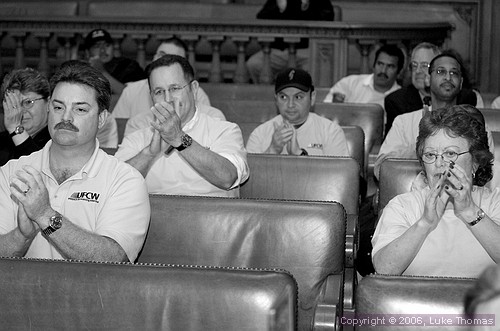 ####